Pedagogical concerns for classroom practice
by Domenika Calvopiña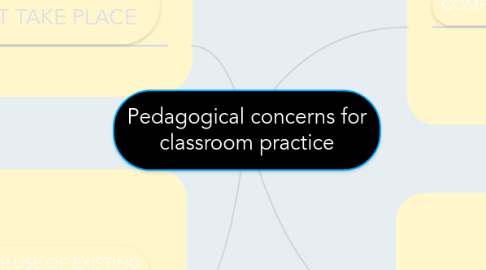 1. COMPUTER AS THE TEACHER
1.1. The computer has taken the role of a teacher at various times as learners have become more autonomous with their learning and being the computer their tool of choice
1.2. Nowadays teacher see computers not as an alternative to their teaching but as a tool that has come to stay.
1.3. However software programs still have a long way before they can be considered providers of comprehensive, effective and efficient teaching.
2. SOFTWARE OBJECTIVES
2.1. Environment needs to be able to offer its learners different interfaces to accommodate and differentiate learning styles and needs.
2.2. A good strategy is to discuss with the students and come up with ideas about what they think they need in terms of language acquisition
2.3. Search for software that matches what your students suggested.
3. MAKING BETTER USE OF EXISTING MATERIALS
3.1. Learners need to be able to reflect upon their learning.
3.2. When learners are able to reflect, they can asses materials and their strategies to use them successfully.
3.3. When learners together with teachers find that a CALL program does not fit their needs decide how can they adapt it.
4. ESTABLISHING AN ENVIRONMENT WHERE CALL MIGHT TAKE PLACE
4.1. In order for CALL to be successful a collaborative environment has to be established
4.2. Environment must match social and interactive nature of CALL
4.3. Individual laptops and wireless connections are suggestions