Our Part
by aaron seitz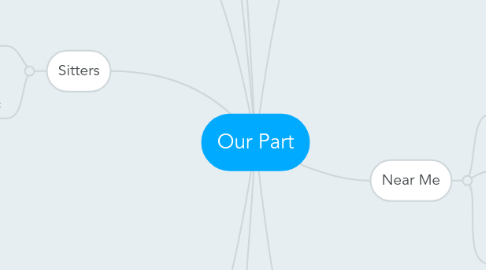 1. Knowledge (Information)
1.1. Research Information Without Specific Reason
1.1.1. Researching For a School Project
1.1.2. Looking Up information for a Friend
1.1.2.1. Want to share information with them directly
1.2. Answer A Question About Your Child
1.2.1. Search the Question
1.2.1.1. Understand the Answers
1.2.1.1.1. Suggest if information is helpful
1.2.1.2. Find out more information related to that topic
1.3. Find Out The Answer To An Insecurity
1.3.1. Filter By Age of The Child
1.3.2. Search The Question
1.3.2.1. Search question by phrase
1.3.3. Describe Situation
1.3.3.1. Search by phrase
1.3.4. Find out information that has been helpful for others
1.4. Share Content That May Help Other
1.4.1. See what similar information is already out there
1.4.1.1. Add Content
1.5. Meta Data
1.5.1. Questions
1.5.1.1. List of Existing Questions Drop Down
1.5.1.2. Add Your Own
1.5.2. Answers
1.5.2.1. Summary of Answer for Reveal
1.5.3. Host Site Name
1.5.3.1. Need Name for Creditibility
1.5.4. Resources
2. Near Me
2.1. I would use this page if I was looking for something close to me
2.2. Meta Data
2.2.1. This page just pulls post of the existing pages
2.2.1.1. Resources
2.2.1.2. Activities/ Events (Things To Do)
2.3. Part of me is thinking about turning this into an APP for my class
3. Resources
3.1. Content That Could Be Added
3.1.1. Support Groups
3.1.2. Meet Ups
3.2. I am looking to share information that may be helpful to others
3.2.1. Need to see what resources are already posted
3.2.1.1. search by title
3.2.1.2. search by posting organization
3.3. I am looking for something that will help me as a parent
3.3.1. I am looking by age
3.3.2. I am looking for information by symptoms
3.4. Meta Data
3.4.1. Address
3.4.2. City
3.4.3. State
3.4.4. Zip
3.4.5. Hours
3.4.6. Updates
3.4.7. Description
3.4.8. Phone Number
3.4.9. Header Image
3.4.9.1. Additional Images
3.4.10. Website
3.4.11. Email
3.4.12. Age This is Targeted To
4. Sitters
4.1. I am a qualified sitter looking to make money
4.1.1. Where do I live
4.1.2. How much do I charge
4.2. I need someone I know I can trust
4.2.1. They also need to have a relationship with my family and child
4.2.2. Are they local
4.2.2.1. What do they charge
5. Activities/ Events (Things To Do)
5.1. Looking for something to do with your child
5.1.1. Hoping it is near by
5.1.2. Cost of Event
5.1.3. Fully Understanding the situation
5.1.3.1. How many other people will be there
5.1.3.2. Is it Safe
5.1.4. Credibility of the event host
5.1.5. Is it a down syndrome specific event
5.1.5.1. If not, how comfortable is the situation for a family with a child with down syndrome
5.2. Looking for support without your child
5.2.1. Hoping it is near by
5.2.2. Building relationships ahead of time
5.2.2.1. What are the experience of the other parents
5.2.2.1.1. How old are their kids
5.3. Meta Data
5.3.1. Date
5.3.2. Start Time
5.3.3. End Time
5.3.4. Address
5.3.4.1. Link to google maps
5.3.5. Description
5.3.6. Images
5.3.7. Age of Child Geared Towards
6. Readings
6.1. What is helpful reading specific to my situation
6.1.1. What do others have to say about it
6.2. Meta Data
6.2.1. Books
6.2.1.1. Author
6.2.1.2. Where To Purchase
6.2.1.3. Review
6.2.1.4. Cost
6.2.1.5. Summary
6.2.2. Blogs
6.2.2.1. Website
6.2.2.2. Review
6.2.2.3. Author
6.3. I read something that may be helpful to others
6.3.1. How can I add the blog post directly to the site
6.3.1.1. Is there a way to make it adding the content simple
7. Message Boards
7.1. I have a question or comment that I can't find and need help
7.2. I find comfort by talking to others
7.3. I want to see if others have similar questions I have
7.4. I am looking to become friends with other parents
7.4.1. I need to find out how to contact the person
8. Log In
8.1. I want to interact with content
8.1.1. Comment
8.1.2. Label a post as helpful
8.1.3. Post in a message board
8.2. I want to add content
8.2.1. Create a Post
8.2.1.1. Add my personal opininion
8.2.1.1.1. Maybe this replaces description?
8.2.1.2. Are people liking my content
8.2.1.3. What do I do if people react negatively to my content
8.3. Create An Account About Me
8.3.1. I want people to interact with me
8.3.1.1. Connect Via Facebook
8.3.1.2. Connect Via Email
8.3.1.3. Connect Via Phone
8.4. Do I have to create another login to remember for this site?
8.4.1. Can I connect via Facebook or Gmail?
9. Add Content (User)
9.1. Add Activity or Event
9.2. Add A Resource
9.3. Add Reading Material
9.4. Add something else that doesnt fit into the categories