Effectiveness of National Legislation Policies and Supreme Court Decisions
by Katherin Abadia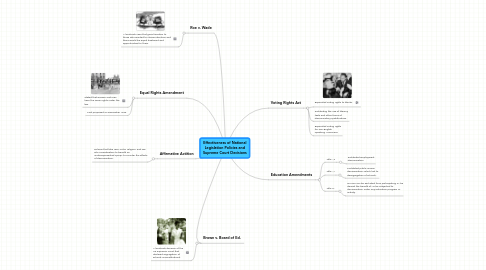 1. Voting Rights Act
1.1. Expanded voting rights to blacks.
1.2. Prohibiting the use of literacy tests and other forms of discriminatory qualifications.
1.3. Expanded voting rights for non-English speaking Americans.
2. Equal Rights Amendment
2.1. Stated that women and men have the same rights under the law.
2.2. First proposed on December 1923.
3. Education Amendments
3.1. Title VII
3.1.1. Prohibited employment discrimination.
3.2. Title VI
3.2.1. Prohibited public access discrimination, which led to desegregation of schools.
3.3. Title IX
3.3.1. No one can be excluded form participating in, be denied the benefit of, or be subjected to discrimination under any education program or activity.
4. Affirmative Actition
4.1. Policies that take race, color, religion, and sex into consideration to benefit an underrepresented qroup, to counter the effects of discrimination.
5. Roe v. Wade
5.1. A landmark case that gave freedom to those who wanted to choose abortion and there would be equal treatment and apportunities for them.
6. Brown v. Board of Ed.
6.1. A landmark decision of the US Supreme Court that declared segragation of schools unconstitutional.