Holiday Helper
by Bridgette Olsen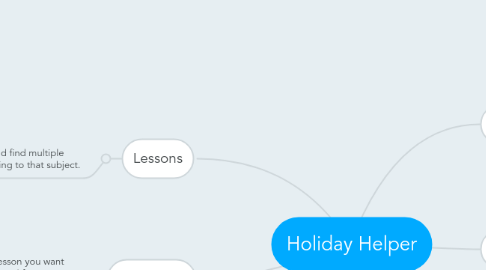 1. Home
1.1. Holiday Helper is a website filled with fun and exciting lesson plans for the holidays.
1.1.1. I will use photo editing to make a logo and place it on the home page so it is the first thing people see
1.1.2. Screencast presentation will be on the home page to give viewers a better understanding on what the website is for.
2. About
2.1. Teaching is one the hardest jobs, but it's also the most rewarding. This website here to make teaching a little easier. If you are just looking for new ideas or need a little inspiration this is the site for you. This site is filled with holiday lesson plans that can be implanted into your classroom and take some of the burden off your shoulders.
2.1.1. I will put an infographic on the about page that gives some fun holiday facts.
2.1.2. I will create a flyer to advertise the website. the flyer can be printed out and posted so people can see what my website is about. on the flyer there will be a QR code that will connect them to the site.
3. Contact
3.1. Do you have questions, comments, or concerns about the site? Feel free to contact me through the information below or follow us on Facebook to get all the latest news on holiday helper.
3.1.1. I will add the Facebook page for the site as another way users can contact me.
3.1.2. I will put the app on the contact page for the site.
4. Lessons
4.1. Select a category and find multiple lesson plans pertaining to that subject.
4.1.1. I will use a video on the lessons page to show how to make a craft.
4.1.2. I will put an infographic on the about page that gives some fun holiday facts.
5. New Ideas
5.1. Do you have a great holiday lesson you want to share with fellow teachers? Feel free to submit your very own unique and fun ideas here.
5.1.1. I will put a google form on this page so users can submit their ideas to the website.
6. Tagline: Teachers helping teachers make life a little bit easier