Towards a Better Future
by Savannah Jonovich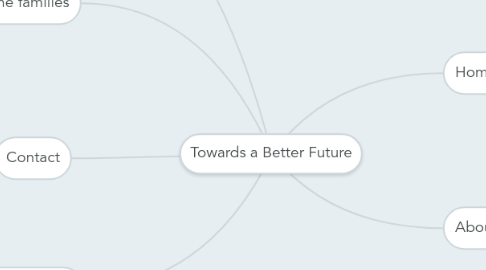 1. Home
1.1. The home page will give a brief summary of Towards a Better Future. It will discuss the importance of Early childhood Education, and the benefits of sending children to PreSchool
1.1.1. Digital Photo Editing and Logo: This page will include the logo I've created for my site.
1.1.2. Promo Video: I will have my promotion video that I've created on this page of the site.
2. About
2.1. The about page will briefly describe myself, my background in early childhood education, and why I chose to start this program. It will include a picture of myself.
2.1.1. Screencast: A screencast will be added to this page to highlight the main points of the website for visitors.
3. Contact
3.1. The contact page allows anyone who needs to get in touch with me to have access to my contact information. (Email, phone, etc.)
3.1.1. A QR code will be added to this page that way people have easy access to my information and business card digitally.
3.1.2. My social Media account will be here as well so people can find more information
3.1.3. I will add a google forum here for any questions.
4. Why send your children to preschool?
4.1. This page will go in depth with the benefits of early childhood and why children should be sent to preschool.
4.1.1. I will include an infographic on this page highlighting all the important information and data
5. Preschool for low income families
5.1. In this section I will explain there are still ways to send your children to preschool even if you don't feel like you can afford it.
5.1.1. I will include a QR code with contact information of local and national organizations that assist with that.
6. News
6.1. This page will share positive news in the preschool education field and various other tips and tricks to parenting and teaching a preschooler.
6.1.1. I will include a fun animation and another video in this section