Terra Graves MY PLN
by Terra Graves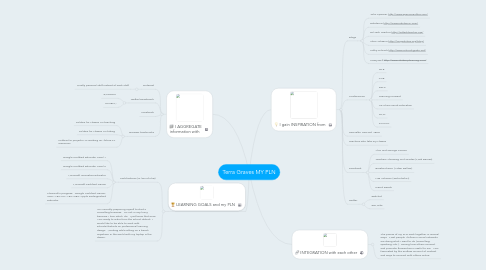 1. I gain INSPIRATION from
1.1. Blogs
1.1.1. John Spencer http://www.spencerauthor.com/
1.1.2. Edudemic http://www.edudemic.com/
1.1.3. Ed Tech Teacher http://edtechteacher.org/
1.1.4. Silvia Tolisano http://langwitches.org/blog/
1.1.5. Kathy Schrock http://www.schrockguide.net/
1.1.6. Kasey Bell http://www.shakeuplearning.com/
1.2. Conferences
1.2.1. ISTE
1.2.2. CUE
1.2.3. FETC
1.2.4. Learning Forward
1.2.5. US-China Smart Education
1.2.6. NMC
1.2.7. iNACOL
1.3. TEDTalks, TED-Ed, TEDx
1.4. Teachers who take my classes
1.5. Facebook
1.5.1. Alec and George Couros
1.5.2. Teachers Throwing Out Grades (Mark Barnes)
1.5.3. Breakout EDU (Adam Bellow)
1.5.4. Lisa Johnson (TechChef4U)
1.5.5. David Deeds
1.6. Twitter
1.6.1. #edchat
1.6.2. #NMChz
2. INTEGRATION with each other
2.1. The pieces of my PLN work together in several ways. Most people I follow in social networks are doing what I want to do (consulting, speaking, etc.). Seeing how others connect and promote themselves is useful to me. I am fascinated by the endless amount of content and ways to connect with others online.
3. LEARNING GOALS and my PLN
3.1. Certifications (in lieu of PhD)
3.1.1. Google Certified Educator Level 1
3.1.2. Google Certified Educator Level 2
3.1.3. Microsoft Innovative Educator
3.1.4. Microsoft Certified Trainer
3.1.5. Planned/In progress: Google Certified Trainer, CETL, LEC-PLL, LEC-OBT, Apple Distinguished Educator
3.2. I'm currently preparing myself to start a consulting business. I'm not in any hurry because I love what I do. I just know that once I am ready to retire from the school district, I would like to be able to work with schools/districts on professional learning design. Working while sitting on a beach anywhere in the world with my laptop is the dream.
4. I AGGREGATE information with
4.1. Pinterest
4.1.1. Mostly personal stuff instead of work stuff
4.2. Twitter/TweetDeck
4.2.1. #WCSD21
4.2.2. #CUENV
4.3. Facebook
4.4. Browser bookmarks
4.4.1. Folders for classes I'm teaching
4.4.2. Folders for classes I'm taking
4.4.3. Folders for projects I'm working on--future PL resources