Outsider's Dream
by Nick von Gnechten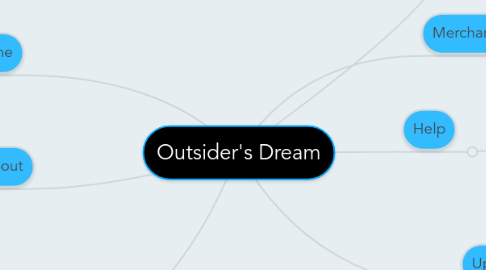 1. Help
1.1. This page will outline how navigate through the site
1.1.1. Video/Animation: the video will go over how to navigate through the website.
2. Updates
2.1. The update page will help visitors know what type of designs are going to be coming out or designs that have came out already.
2.1.1. Social Media: The use of a Facebook page and Instagram, visitors will be able to have a preview of designs that have already been on the site or that will coming to the site
2.1.2. Infographic: the infographic will talk about the different social media sources a person can use to keep up to date with the OutsidersDreams company.
3. Home
3.1. The Home page will give an overview of Outsider's Dream. It will consist of the most important information that interests the visitor to dive deeper into the site.
3.1.1. Photo Editing: I will use photo editing to enhance photos of the first designs that were put used on t-shirts
3.1.2. Logo: I will display a logo of Outsider's Dream on every tab of the site.
4. About
4.1. The About page will give more detail about Outsider's Dream, as well as talk about the founder of the company.
4.1.1. Graphic Design/ QR Code: I will create a flyer with an overview of Outsider's Dreams.
4.1.2. Screencast: the screencast will show the different ways Outsiders Dreams can keep in contact with its customers and visitors.
5. Contact
5.1. The Contact page will have information for visitors of the site to contact Outsider's Dream with any questions.
5.1.1. App prototype: I will create an App Prototype that could allow visitors to make their own design for a t-shirt.
6. Outsider's Dream tagline: Clothing designed for the outsiders in this world.
7. Merchandise
7.1. The Merchandise page will show all of the designs that have been made at Outsider's Dream
7.1.1. Photo Editing: I will use photo editing to show t-shirt designs available for visitors to purhchase
7.1.2. Google Form: I will create a Google Form that allows people to fill out information to purchase t-shirts.