Down Right Perfect
by Danielle Ondrejech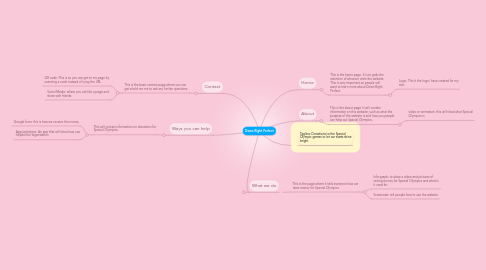 1. Home
1.1. This is the home page. It is to grab the attention of whoever visits the website. This is very important so people will want to learn more about Down Right Perfect.
1.1.1. Logo: This it the logo i have created for my site.
2. About
2.1. This is the about page. It will contain information on this website, such as what the purpose of the website is and how you people can help out Special Olympics.
2.1.1. video or animation: this will show what Special Olympics is
3. Contact
3.1. This is the basic contact page where you can get ahold me me to ask any further questions.
3.1.1. QR code: This is so you can get to my page by scanning a code instead of tying the URL
3.1.2. Social Media: where you can like a page and share with friends
4. Ways you can help
4.1. This will contain information on donations for Special Olympics.
4.1.1. Google form: this is how we receive the money
4.1.2. App prototype: An app that will show how you helped the organization
5. What we do
5.1. This is the page where it tells everyone how we raise money for Special Olympics
5.1.1. Info-graph: to show a video and pictures of raising money for Special Olympics and what is it used for
5.1.2. Screencast: tell people how to use the website
6. Tagline: Donations to the Special Olympic games to let our starts shine bright