ED. Internacional
by Elizabeth Vazquez Flores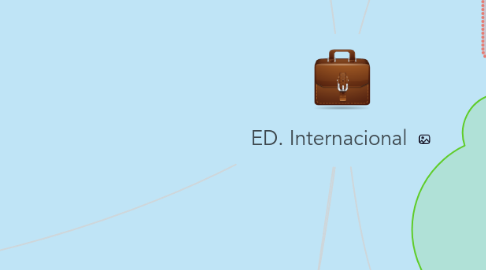 1. 1891, el 14 de julio, el Consejo de Administración de la Universidad de Wisconsin, intercambios de cartas .
1.1. En 1906 la Calver School of Baltimore ofrece cursos por correspondencia (Moore y Kearsley, 1996).
1.1.1. En 1956 inicia la emisión de programas educativos por televisión el Chicago TV College
2. Europa
2.1. Francia
2.1.1. Suecia
2.2. España
2.2.1. Unión Sovietica.
2.2.2. Belgica.
3. Africa
3.1. 1873 (UNISA)
3.1.1. 1946
3.2. 1962 (INADES)
3.3. 1975 (Universidad de lagos)
3.4. 1973 (AADE)
4. Asia
4.1. Se inicia en (1935) Japón iniciaba sus programas escolares de radio
4.2. En (1951) se utilizo la televisión educativa.
4.3. En (1960) se funda el Beijing Broadcasting and Television.
4.4. Se dice que en (1989) 1,5 millones de profesores de un total de 5 millones no alcanzaron los niveles de cualificación requerido.
4.5. En consecuencia, se generó un amplio proyecto de adiestramiento de los maestros mediante la enseñanza a distancia, utilizando uno de los dos satélites educativos chinos (UNESCO, 1998).
4.6. En (1962) la Universidad de Delhi abrió un Departamento de Estudios por Correspondencia, como ensayo para atender a los estudiantes que de otro modo no podrían recibir una enseñanza universitaria.
5. AMERICA
5.1. Podríamos considerar con Mathieson (1971) que la madre en América fue Anna E
5.1.1. En 1980 se crea el National University Consortium que produce y emite programas educativos por televisión vía satélite a un buen grupo de instituciones adscritas, aunque no a sus alumnos.
5.1.1.1. CANADA
5.1.1.1.1. La enseñanza a distancia de nivel universitario se inició en Canadá en 1889, a través de la Queen´s University de Kingston (Ontario).
6. Oceanía.
6.1. En 1910 W.AGrudey
6.1.1. En Victoria
6.2. Rayner 1949
6.3. En la decadas de los 40