WHO IS MY TARGET AUDIENCE?
by Michael Ortega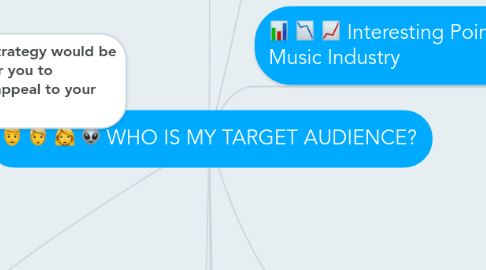 1. WHAT I HAVE IN COMMON WITH RECORD COMPANY EXECUTIVES?
1.1. Common goal is to sustain an artist's career
1.2. capitalize on the market across the world through the production and promotion of good quality music
1.3. Passion to develop great artists that will create great music
1.4. Maintain a good relationship with artists and staff
1.5. Taking risks when launching career of a new artist
1.6. We both have an entrepreneurial mindset
1.7. We're all here to run a successful business
2. Record Labels
2.1. Record company Executives
2.2. Vice President
2.3. Director
2.4. President
3. What skills and qualities does your industry look for?
3.1. familiarity with registering w/ Soundscan, Sound Exchange, & Media Base
3.2. Negotiating skills
3.3. accounting skills
3.4. knowledge of Tax laws
3.5. budget management
3.6. deep knowledge of visual media & music
3.7. Extremely organized self-starter with a proactive approach to management
3.8. Ability to communicate with all levels of management, talent and third party entities
3.9. Strong interpersonal skills and ability to effectively work in a fast-paced environment with both creative and business oriented colleagues and partners
3.10. In depth knowledge of all social media platforms and analytics, streaming and mobile services, and apps
3.11. royalty tracking and auditing
4. What presentation strategy would be the most valuable for you to develop and use to appeal to your industry?
4.1. Communicating effectively is the key to a successful presentation
4.2. Have confidence in the way you present your ideas
4.3. Be yourself so they know that you're Honest
4.4. Build a connection with your audience
4.5. Be knowledgeable of the music business industry
4.6. Limit the amount of words on each slide. Make sure your audience is paying attention to you and not just reading the slides
5. What other types of information is important to this group from your industry?
5.1. The music industry is now forced to worked with companies such as Facebook, Google, and Apple as their distribution platforms
5.2. The subscription value of streaming services such as Spotify reached $68m last year, a growth of 66% from 2014 according to TheGuardian.com
5.3. There's still ways of making revenue through streaming even though physical album sales are declining each year
5.4. Streaming revenue will nearly double from now to 2020
5.5. Artists like Drake helped power Universal to profitability last year, earning the company $1.1bn in streaming revenues in the first nine months — enough to offset the fall in sales of digital downloads and CDs according to FinancialTimes.com
5.6. Each year more people are buying access to digital music; Americans streamed 431 billion songs on demand in 2016
6. Interesting Points of the Music Industry
6.1. According to Wikipedia from 2005 and 2013, Billboard Charts have been changing their methodology by adding digital sales from iTunes and Rhapsody, streaming from Youtube and Spotify as a way to keep tallies.
6.2. Chance the Rapper made music-business history when his album "Coloring Book" became the first streaming-only release to chart on the Billboard 200 according to the LA Times
6.2.1. The Recording Academy announced changes to rules governing the Grammy Awards, including one that allows streaming-only titles to be considered for music's most prestigious prize
6.3. WHY ARE THESE POINTS INTERESTING?
6.3.1. There was a point where people thought that the music industry was going to collapse due to free downloads from companies like Napster in 1999. I feel now that the music industry has turned the tables around by creating streaming services like iTunes, Google Play, Tidal, Spotify and Pandora. Even now with the evolution of the music industry, artists are now being able to be nominated for Grammy's, get paid in streaming royalties, and still be able to climb the Billboard charts.
7. WHAT IS MY BIG IDEA?
7.1. To create awareness of the diamond in the rough that Salt Lake City is and establish a music industry in Utah. We already have Sundance as one of the biggest film festivals in the nation. Why not have a music industry?
7.2. As a graduate of Full Sail University and current resident of Utah, I would like to extend my hand to any record label that is willing to expand and establish a branch here in Salt Lake City. I have contacts with radio station DJ's, Club promoters, Club owners, artists, film makers, and producers. This state has a lot to offer. We just need someone who is willing to take the risk. A risk that can determine the future and establishment of The Salt Lake City Music Industry.
8. MY FUTURE SELF
8.1. How am I unique? What qualities do I bring that are different?
8.1.1. I know how to stay calm when under pressure
8.1.2. I'm considered a mentor to others
8.1.3. Capable of training others
8.1.4. Bilingual Spanish
8.1.5. Passionate
8.1.6. Commited
8.1.7. Innovative
8.1.8. Risk taker
8.1.9. DIY
8.1.10. Multitasker
8.2. Software
8.2.1. Microsoft Excel
8.2.2. Power Point
8.3. What is your specialty as you finish your degree?
8.3.1. Creative Presentations
8.3.2. Business Management
8.3.3. Data Analysis and Reporting
8.3.4. Business Accounting
8.3.5. Business Marketing
8.3.6. Music Retail and Distribution
8.3.7. Concert Management and Touring
8.3.8. Music Copyright and Publishing
8.3.9. Artist Management
8.4. Unique Interests
8.4.1. I'm also a songwriter
8.4.2. Recording artist
8.4.3. club promoter
8.4.4. Learn from the best of the industry
8.5. Potential portfolio projects, goals or internships do you want to complete while you are in school that could enhance your description of being a qualified candidate?
8.5.1. Complete Business and Marketing Portfolio
8.5.2. Internships in Artist management
9. Presentation Flow
9.1. Beginning
9.1.1. When I was a teenager, I started to become a bigger fan of Hip Hop. I was being introduced to legendary rappers like 2pac, Bone Thugs, Eazy E, Nas and Biggie. This was the early 2000's. So this was also the era of Missy Eliot's "Get Ur Freak On", Nelly's "E.I." & "Country Grammar", Shaggy's "It wasn't me", Destiny's Child's "Jumpin' Jumpin", DMX's "Party Up In Here" Aaliyah's "Rock the Boat" & "Try Again", and last but not least Juvenile's "Back That Azz Up". Even The Dogg Pound was still making hits like "Ride Wit Us". It was also Dr. Dre's Aftermath label's time to shine with artists like Eminem & Xzibit. At that moment in time, that's when I decided I wanted to write rhymes and become a rapper. That was the foundation of my career. I moved out of LA in 2008 to Utah. That's where I learned some of my management skills. I Booked my own events, hired a DJ, booked artists, handled all the funding, promotion, and marketing. While all this was happening, I was able to keep a full time job. I have 5 years of restaurant management experience, I'm a father of 3 boys, and a husband to my beautiful wife whom has been supportive of me since we first moved to Utah.
9.2. STAR MOMENT
9.2.1. My star moment will be rapping one of my verses from my song called "Around The World". "It was all a dream for me and my team, to conquer the scene, Now we doing our thing. From California all the way to Utah, just to get some moolah, let this hustler school ya'. I'm on the world wide web. Recording this music trying to get some bread. Doing major shows, out of state. It's what we're doing next, It's what we're doing next. Life is a test, and I'm going to ace it. Obstacles with dead ends, I'm ready to face them. Searching for fortune and fame, I can already taste it. Positivity, I'm trying to embrace it. It's a hard market but I'm still paper chasin."
9.3. Middle
9.3.1. With the education that Full Sail University has provided me, I can now effectively use my skills to contribute in the success of your company. I will be able to keep track of all publishing and copyrights, Help you're artist plan a nationwide tour, create an epic album, market through social media platforms, distribute through retail and digital platforms, and promote the album by setting up interviews, put singles on rotation and more. One of my strongest skills is to be a multi tasker. I'm very dedicated and passionate about music. I'm committed and I never give up. When a situation gets difficult, I'm able to stay calm thanks to my restaurant management experience.
9.4. END
9.4.1. Refer to "What Is My Big Idea"