Metodologia General Ajustada MGA
by Gisselle Ariza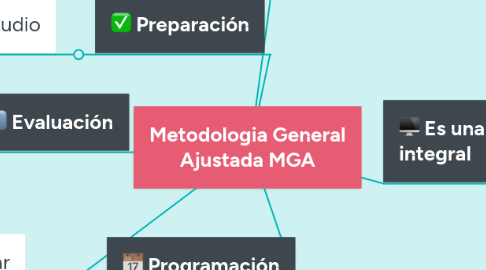 1. identificación
1.1. Análisis Situación Actual
1.1.1. -Problematica -Causas - Efectos -Población Afectada - Ubicación proyecto - Actores Involucrados - Oferta Demanda
1.2. Situación Esperada
1.2.1. -Objeto Principal -Objeto especificos - Población
1.3. Alternativas de solución
1.3.1. Determinar las soluciones
2. Evaluación
2.1. evalúa la conveniencia de llevar a cabo o no una alternativa de solución
3. Programación
3.1. Determinar con precisión la forma de lograr el resultado del proyecto
3.1.1. Fuentes de información tenidas en cuenta y las desviaciones entre lo planeado y lo realmente ocurrido
3.1.1.1. Fuentes de financiación
3.1.1.1.1. Establecen indicadores de producto y de gestión al igual que las metas que se espera alcanzar
4. Es una Herramienta informática integral
4.1. Objeto
4.1.1. Proveer un sistema de información ágil y eficiente en el procesos de identificación, preparación, evaluación y programación de los proyectos de inversión.
4.2. Gestión de proyectos que se aplica en todas las etapas de un proyecto
4.2.1. Planeación, seguimiento y evaluación a la ejecución física, presupuestal, financiera y de resultados
4.3. La importancia que representa la correcta formulación de proyectos de inversión publica para asignar recursos de los diferentes presupuestos públicos.
4.4. Herramienta se convierte en un instrumento de gestión de proyectos, que traza una ruta alternativa para el cumplimiento de los objetivo.
4.4.1. Open the Theme menu from the bottom of your map editor to change your map theme
4.4.2. Create a presentation of your mind map by clicking the presentation icon in the bottom left corner of your screen
4.4.2.1. Simply hold down COMMAND i.e. CTRL and Click & Drag to create a slide for one or multiple topics
4.4.2.2. Set transitions for your slides
4.4.2.3. Click "Start Slideshow" to view your presentation
4.4.3. Open the Sharing Settings from the bottom of your map editor to share the map with a friend or publish it to the web
4.4.3.1. You can share your map with anyone via email
4.4.3.2. You can publish your map and enable anyone with an internet access to find it
4.4.3.3. You can embed your map on a blog or website
4.5. link Sistema de autenticación federada
5. Preparación
5.1. Consolida los Resultados de Estudio
5.1.1. el estudio legal, estudio de mercado, estudio técnico, estudio ambiental, estudio de riesgos y estudio financiero.