Anime Detour Consuite
by Michelle Clark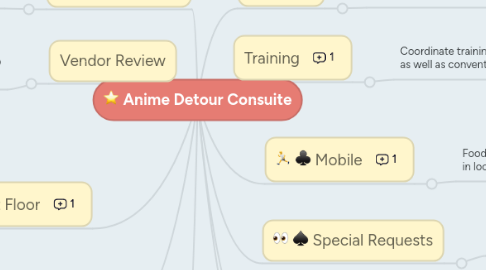 1. Meetings
1.1. Attend regular meetings to keep track of changing needs & answer questions as needed.
2. Vendor Review
2.1. Review previous purchases. Explore new options. Place orders as needed previous to convention. This includes Health permits.
3. 1st Floor
3.1. Rice & Ramen
3.2. Munchies
3.3. PBJ
4. 2nd Floor
4.1. Massage
4.2. VolCon
4.3. Storage
5. GoH Green Room
5.1. Quiet space for Guests of Honor to relax & refuel between apprences.
6. Mobile
6.1. Food delivered to staff working extended shifts in locations without easy access to food.
7. "Orange Shirts"
7.1. Special Team to ensure the smooth operation of the Consuite. They act as runners, suppliers, back-ups & interference checkers.
8. Training
8.1. Coordinate training of staff for Healthy & Safety as well as convention needs
9. Inventory Control
9.1. Track equipment needs & condition. Explore new options. Coordinate purchases.
10. Thursday Staff Luncheon
10.1. Coordinate lunch for the volunteers working convention set-up
11. Special Requests
11.1. Special "One Time" Deliveries.
11.1.1. Beging of convention delivery of snacks & drinks to various departments
11.1.2. Special meals coordinated for departments with serious time restrictions