Does social media have a place in the criminal justice system? By Rachel Toia
by Rachel Toia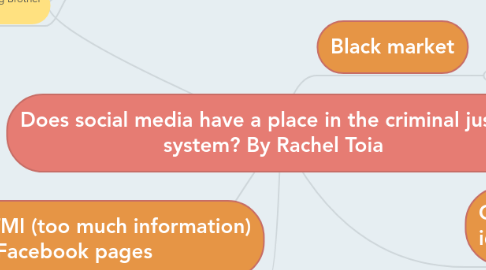 1. CCTV footage posted online for help identifying suspects
1.1. Open for discussion on public forum
1.1.1. May offer more information which would be useful for conviction
1.1.2. Would it hinder a fair trial?
2. Currently under WA law, suspects can't be convicted for facebook comments / posts / pictures
2.1. Not considered sufficient evidence
2.1.1. Why can't it be considered evidence?
2.2. What exactly are the laws in question?
3. Invasion of privacy?
3.1. Find privacy laws in Australia
3.1.1. Are they more strict than other countries?
3.1.2. What exactly can we / can't we legally post on facebook?
3.2. Would it lead to a 'Big Brother' situation?
3.2.1. Extension of 'neighbourhood watch'
3.2.2. Every movement monitored
3.2.3. China
3.2.3.1. All citizens exist under a merit system (similar to our credit system), which affects their ability to take out loans and move freely
3.2.4. "1985" George Orwell
4. Dangers of TMI (too much information) on personal Facebook pages
4.1. Illegal substances
4.1.1. Boasting / bragging about drug hauls
4.1.2. People posting on their Facebook walls 'chasing drugs'
4.1.2.1. Use "chasing the green" to avoid using actual terms
4.1.2.1.1. Does this help get them out of trouble with the law?
4.2. Giving away speed camera and police locations
4.2.1. If a person who's been drinking gets behind the wheel, avoids these places, consequently causing an accident; should the person who shared these locations also be held liable?
4.3. Advertising for U18 house parties involving alcohol
4.3.1. Current laws involving teenagers drinking at friend's houses are a bit murky and rarely enforced by supervising parents
4.3.1.1. I believe the supervising parents have to ask permission from the child's parents in question?
4.3.1.1.1. How can this be better enforced for large parties?
5. Black market
5.1. More readily available over the internet
5.2. Wider audience than traditional methods
5.2.1. Larger profits
5.3. Less chance of being caught
5.3.1. Can use IP blockers to avoid capture by police
5.3.1.1. Cannot always track them down