The Triumph of Industry
by Frank Martinez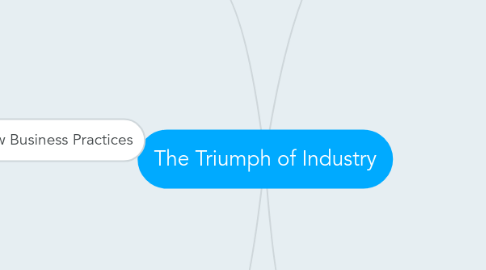 1. Key Industries
1.1. Steel
1.1.1. Bessemer Process-Air blown into hot pig iron to remove impurities; reduces cost of making steel by 80%.
1.1.2. Andrew Carnegie- Adopted the Bessemer Process; Built large steel works
1.2. Communications
1.2.1. Telegraph- Samuel Morse/" Morse Code" (dots and Dashes)
1.2.2. Telephone-Alexander Graham Bell
1.2.3. Transatlantic Cable- Cyrus Field
1.3. Electricity
1.3.1. Thomas Edison- Phonograph (1877); Electric light bulb (1879); Motion Picture (1896); Improved battery; electric power station backed by J.P. Morgan.
1.3.2. Nicolas Tesla- Alternating current
1.4. Oil
1.4.1. Edwin Drake- First oil well drilled in Pennsylvania (1859)
1.4.2. John D. Rockefeller- Standard Oil Company; kerosene and gasoline; railroad rebates; pipeline transport.
1.5. Transportation
1.5.1. Internal Combustion Engine- End of 19th Century; used controlled explosions to move piston in cylinder.
1.5.2. Henry Ford- Less expensive automobile
1.5.3. Wilbur & Orville Wright- Airplane (1903)
2. African American & Women Inventors
2.1. Elijah McCoy- Oil drip cups for trains
2.2. Sarah Goode- Fold away bed
2.3. Lewis Howard Latimer- New process for making carbon filaments in light bulbs
2.4. Jan Ernst Matzeliger- Machine for attaching soles to shoes
2.5. Garrett Morgan- Breathing apparatus for use by firemen; a patent for a traffic signal
2.6. Madam C.J. Walker- Hair-care products, especially for African American women
2.7. Granville Wood- Multiplex telegraph
2.8. Josephine Cochran- First "automatic" dishwasher
3. Invention VS. Innovation
3.1. Invention- To design something new
3.2. Innovation- To apply or adopt new machines, processes and/or products
4. New Business Practices
4.1. Advantages of Large Companies
4.1.1. Economies of large scale
4.1.2. Cheaper sources of supply
4.1.3. More efficient management
4.2. Dangers of Monopoly
4.2.1. Less incentive to improve products
4.2.2. Monopolist can overcharge consumers
4.3. Forms of Business Consolidation
4.3.1. Pooling agreement; trust; holding compay
5. "Captains of Industry" or "Robber Barons"?
5.1. Andrew Carnegie (Steel)
5.1.1. Adopted Bessemer Process; Homestead Striker; Vertical Integration; Gospel of Wealth
5.2. John D. Rockefeller (Oil refining)
5.2.1. Secret rebates from railroads; standard Oil; Horizontal integration
5.3. John Pierpont Morgan ( Financier)
5.3.1. Financed Edison; formed General Electric; formed U.S. Steel in 1901