OCPS School Board Meeting 10/12/11
by
Gina Dailey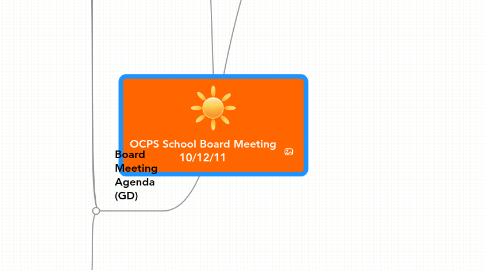 0.0
stars - reviews range from
0
to
5
OCPS School Board Meeting 10/12/11
Meet the Board (GD)
Joie Cadle (D1) Chair
Christine Moore (D7) Vice Chair
Daryl Flynn (D2)
Rick Roach (D3)
Attended teh meeting via phone.  He had to leave the meeting as of 7:56 PM. -H.S.  
Vicky Bell (D4)
Ms. Bell was in favor of Orlando Science Charter School.  She worked to help the board member that Ms. Gordon was questioning, explain the cause of the budget deficit in the existing school.  She explained that with their first charter their building was bigger than needed for the amount of students they ended up enrolling.  This time, they have the studnets first and will get a building to accomodate that number.  This will keep costs under control.  Budget deficits, according to Ms. Bell, could've been from the cost of the large building. -H.S.
Kat Gordon (D5)
Ms. Gordon was a very opinionated board member.  She had strong personal beliefs, views, and opinions throughout the board meeting.  At times she was somewhat confrontational.  Her courage in voicing her opinion shows her commitment to this school board, however at times she seemed rude, impatient, misinformed,  condescending and stubborn.  The questions were asked and were relevant, but Ms. Gordon rarely listened to the speakers' responses to address her valid concerns. -H.S.  
Nancy Robinson (D6)
District Representatives (GD)
Ronald Blocker Superintendent
Board Meeting Agenda (GD)
Strategic Update (GD)
Public Hearing (GD)
Consent (GD)
Non-consent (GD)