Social Media in the Criminal Justice system
by Riini Heta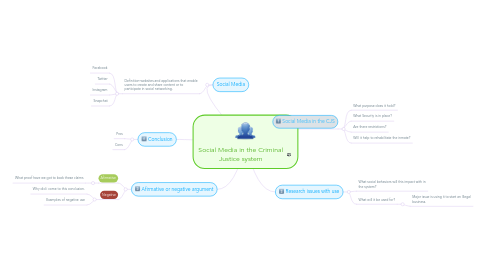 1. Research issues with use
1.1. What social behaviors will this impact with in the system?
1.2. What will it be used for?
1.2.1. Major issue is using it to start an Illegal business.
2. Afirmative or negative argument
2.1. Afirmative
2.1.1. What proof have we got to back these claims
2.2. Negative
2.2.1. Why did i come to this conclusion.
2.2.2. Examples of negative use
3. Conclusion
3.1. Pros
3.2. Cons
4. Social Media in the CJS
4.1. What purpose does it hold?
4.2. What Security is in place?
4.3. Are there restrictions?
4.4. Will it help to rehabilitate the inmate?
5. Social Media
5.1. Definition-websites and applications that enable users to create and share content or to participate in social networking.
5.1.1. Facebook
5.1.2. Twitter
5.1.3. Instagram
5.1.4. Snapchat