CLIL PRINCIPLES
by Chencho Gasco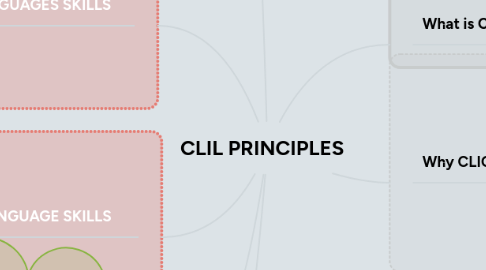 1. What is CLIL
1.1. Foreign lenguaje is used as a tool in the learning of a no lenguaje subject
2. Why CLIC
2.1. Promotion of foreign languages
2.2. Promotion of minority languages
2.3. Acquisition is most effective
2.4. Susbtantive basics for languages learning
2.5. It's an integral part of social and cognitive development
3. CLIL DIMENSIONS
3.1. The culture dimension
3.2. The environment dimension
3.3. The language dimension
3.4. The content dimension
3.5. The learning dimension
4. CLIL PRINCIPLES
4.1. COMUNICATION
4.1.1. Using learning to learn-Whilst learning to use language
4.2. CULTURE
4.2.1. Exposure to alternative perspectives and shared understandings
4.3. CONTENT
4.3.1. Progression depend on skills and understanding relatedelements curriculum
4.4. COGNITION
4.4.1. Developing thinkingskillsformation, understandig and language
5. ORDER FOR THE LANGUAGE SKILLS
5.1. 1. READING
5.2. 2.SPEAKING
5.3. 3. WRITING
5.4. 4. LISTENING
6. PROPORTION LANGUAGES SKILLS
6.1. 1.Listening
6.2. 2.Speaking
6.3. 3.Reading
6.4. 4.Reading
6.5. 5.Writing
7. ESSENTIAL ELEMENTS
7.1. Create a psychologicalle safe envioronment
7.2. Consistenly use one language
7.3. Speak slowly and ard articulate clearly
7.4. Repetition is required
7.5. Make it relevant for student, connect with their lives, culture...
7.6. In the beginning, it is aceptable to use L1
7.7. Use an appropiate level of language
7.8. Provide a variaty of language models and resources
7.9. 4 language skills
7.10. Give importance to L2, use it outside the classroom.