Nereyda Rodriguez Browsers 2011
by
nereyda rodriguez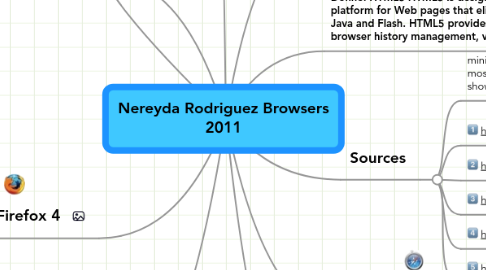 0.0
stars -
0
reviews range from
0
to
5
Nereyda Rodriguez Browsers 2011
Opera 11
Pros:
Cons:
Google Chrome 9
Cons:
Apple Safari 5
Cons:
Mozilla Firefox 4
Cons:
Explorer9
Cons:
Define: Browser is a program that accesses and displays files and other data available on the Internet and other networks.
Sources
minimum 5 sources, only most recent versions as shown:
http://bit.ly/fPvjY0
http://bit.ly/fpBv2x
http://bit.ly/geJIeI
http://bit.ly/12D62l
http://bit.ly/hj6seW
Define: HTML5 HTML5 is designed to provide a comprehensive application development platform for Web pages that eliminates the need to install third-party browser plug-ins such as Java and Flash. HTML5 provides support for 2D graphics, document editing, drag and drop, browser history management, video playback and local file storage.
Marketshare
To Flash or Not to Flash