My New Computer
by
Hanchen Lu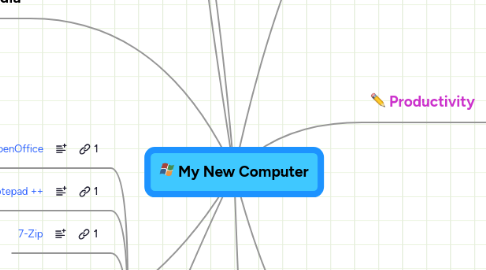 4.8
stars -
8
reviews range from
0
to
5
My New Computer
Misc.
Excellent alternative to Microsoft Office. It's JAVA roots can make it a little slow at times, but I think it's worth it.
Windows Notepad sucks. This is better. Also excellent if you do any coding as well.
Free and open source. It's 7z format is very powerful and popular as well.
UNIX emulator for Windows. I'm a Linux dabbler, so I'm gonna check it out. I don't even want to deal with what packages I'm downloading, yet.
If you download anything from Megaupload or Rapidshare, this is a wonderfully useful tool.
Looks to be better than the Windows' default slider notifications.
System
Converts Google Gadgets to be compatible with Windows Sidebar. EDIT:Windows sidebar is disappointing.
You'll never know when this'll be useful
Shady stuff
Highly secure file sharing. What's not to like?
Still one of the best feature-to-resource footprint torrent clients out there.
ISO handlers
Emulators
Maintenance
Powerful freeware defrag utility. Screensaver defrags are extremely useful, along with its various organization methods. May need O&O defrag to supplement with its SPACE function.
Simple but powerful backup. Freeware version not as advanced as paid version, but still very powerful.
Most of the software found here can be found on the filehippo servers. This helps keep them all up to date.
For those little accidents, since I don't usually use the recycling bin.
Cleaners
Drive imaging
Productivity
Once you start using it, you'll wonder how you ever got along without it. Never use the start menu again.
Just for kicks and giggles.
Keep notes about tidbits and stuff. Might be too feature-rich for what I'm looking for, though. EDIT: Disappointing. Needs some more polish when it comes to usability.
Learn how to get things done and organize your tasks.
Explorer Tweaks
Best freeware virtual desktop manager. Comes with tons of other useful windows management functionality.
Desktop mind-mapping for getting those ideas down.
If only for the middle click to close functionality.
Questionable since I already have Launchy, though the sudo function and the ability to search without starting Firefox is tempting. EDIT: Hardly used at all, removed.
Internet
Does this need an introduction?
The best cross-platform, cross-protocol IM clients out there.
Media
Video
Audio
Imaging
Games
Wonderfully addicting turn-based fantasy strategy game with high production values and deep gameplay built on simple rules.
One of the best free 2D action games you'll find for windows. Fast-paced addicting gameplay.
Support the Indie movement! There are tons of gems hidden out there.
Classic 2D fighter. Cooperative mode is a blast.
One of the best space sims out there, so I'm told. Rivals Wing Commander, though not nearly as well known.
Beyond Good and Evil
Been meaning to finish this game sooner or later.
Security
Most barebones of the trio of Avira, Avast, and AVG. Others have additional firewall/spyware functionality that I prefer to be relegated to other programs.  
Promising program from Microsoft. Effective, even if not yet mature.
A de-facto standard amongst free spyware detection programs. Wanted mostly for immunization feature.
Secure password manager. Need to see about auto form-filling.
Highly secure and effective encryption program.  
Auto-Update and Real-time protection gives it a slight edge over other free Spyware products.
A de-facto standard amongst free spyware detection programs.
I'm starting to question the effectiveness of its protection. Similar to Spybot's immunize function, it seems to only block cookies.
Run program tweaks after Registry and Service ones.
System Optimization
Tweaking Programs
None of these have personally been tested by me, but I'll check them out.
UAC