Kesha Lomayesva Browsers 2011
by Kesha Lomayesva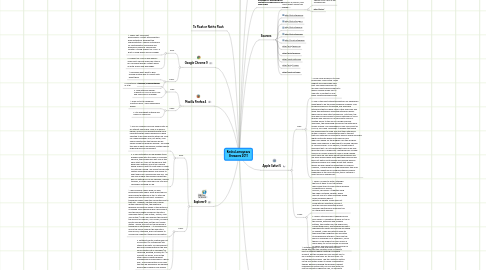 1. Opera 11
1.1. Pros:
1.1.1. 1. Installing Opera is a fast and short process, taking less than two minutes. Many of Opera's built-in features require creating a MyOpera account, but the browser will only prompt you to do so when you use them for the first time--it's not required to browse. Tap the "Options" button on the first install screen to reveal configuration tweaks. Besides changing the browser's default language and install path, you can also install for just the currently-signed on user, or choose to install Opera directly to an external device. It's a great, simple way to create a portable version of Opera for a USB key.
1.1.2. 2. Opera some big performance improvements in this version, and they appear to bear out. In addition to helping some pages load up to 30 percent faster simple by toggling the plug-ins, as described in the features section above, the browser's performance in general has been improved. Opera says that Opera 11 is 15 to 20 percent faster than Opera 10.63, and that the browser size on disk has been reduced by almost one-third. Full benchmarks will be added here as they are completed, but preliminary results indicate that Opera 11's page-load times remain comparable to Google Chrome's on publicly-available benchmark tests like Google's V8, WebKit's SunSpider 0.9.1, Mozilla's Kraken, and Futuremark's Peacekeeper.
1.2. Cons:
1.2.1. 1. Fewer extensions than other browsers
1.2.2. 2
2. Google Chrome 9
2.1. Pros:
2.1.1. 1. Super-fast JavaScript performance. Instant site prediction. Easy installation. Excellent tab implementation. Themes. Extensions for customization. Bookmark and preference syncing. Tab process isolation. Strong support for HTML 5. Built-in Flash player and PDF reader.
2.1.2. 2. Support for HTML5 and WebGL; Super fast; Chrome Web App Store is fun Minimalist design; Instant works on both search and web pages
2.2. Cons:
2.2.1. 1. Paranoids won't want to give Google another way to collect data about them.
2.2.2. 2. Sometimes pages fail to load properly or at all
3. Apple Safari 5
3.1. Pros:
3.1.1. 1. Cover Flow allows you to view bookmarks; iTunes style Looks elegant and loads pages very fast; Top Pages allows you to see your most popular pages at a glance; Reader allows you to view lots of content on one page; Private browsing mode
3.1.2. 2. One of the most interesting features for developers might have to be the Safari Developer Program. This program allows you to develop, use and share extensions that you have made. Other users can also share their extensions using the extension gallery which will be open later this summer. Until then, the only way you will be able to use an extension is if you develop one yourself or if a third-party source is created similar to the one for Google Chrome. Thankfully, the developing process of the extensions is web-friendly. The languages you can use consist of HTML5, CSS3 and JavaScript. It appears that Apple has worked hard to make sure that their extensions system is secure. I picked that up due to the fact that your extension is required to have an Apple-provided digital certificate which is included for free when you signup for the program. Will this program make Safari superior or equivalent to Google Chrome or Mozilla Firefox? In my opinion, it might make it equivalent but I do not believe that Safari 5 will ever reach the level of superiority. Switching from Google Chrome or Mozilla Firefox to Safari is a big change. Most users are very picky about their browsers and are likely already happy with what they have and will likely not switch. Both Firefox and Chrome have an extension gallery and I highly doubt that Safari's gallery will ever reach the magnitude of Mozilla's. However, if Apple gains enough developers they may reach the magnitude of Google's extension gallery. Regardless of the final outcome, this is certainly a smart move on Apple's part.
3.2. Cons:
3.2.1. 1. Safari 5 is easy to install, although the time it takes to run the installer feels longer than its major alterna-browser competitors of Firefox, Chrome, and Opera. It updates using the Apple Software Updater, which may opt you in to other Windows-based Apple programs when it detects an update. Safari does not come with an uninstaller, and so it must be removed using the default Windows Add/Remove Programs tool or a third-party remover.
3.2.2. 2. Safari's interface hasn't changed much from Safari 4. Navigation remains on top in this version, with Back and Forward buttons, the location bar, the search box, current page menu, and preferences menu. Whereas both Safari and Chrome are based on WebKit, Safari has opted to keep its tabs below the navigation bar and retain its brushed gray interface. It will look the same on Windows XP or Windows 7, since there's no real support for Aero Glass. In many ways, it's not as minimal as Chrome or Opera, and feels a bit older because of it.
4. Mozilla Firefox 4
4.1. Pros:
4.1.1. 1. Clean, simple interface.
4.1.2. 2. New interface design; Support for HTML5 and CSS3; and New add-on manager
4.2. Cons:
4.2.1. 1. Does not let all facebook functions work. Slow loading web pages.
4.2.2. 2. Still somewhat unstable and Heavy on resources
5. Explorer9
5.1. Pros:
5.1.1. 1. The URL address box pulls double duty as an Internet search box. Type in a word or phrase, and you'll be presented with icons representing the search engines you have selected to be used directly within IE9. Click on a search engine's icon, hit "Enter," and search results from that service will be shown inside the browser window. We found this way in which IE9 handles multiple search engines quick and convenient.
5.1.2. 2. If your installation of IE9 appears to be bogged down with too many or malicious add-ons, the browser will alert you of this upon start up. It will list the add-ons that have been installed, and let you choose which ones you want to shut down or allow to continue running. We found this security feature surprisingly helpful as a means to audit and prune unnecessary add-ons. You can also imagine the obvious benefit this has for alerting you of any spyware, useless toolbars, or other rogue add-ons you don't remember installing on IE9.
5.2. Cons:
5.2.1. 1. IE9 includes a "dialer" page, an idea popularized with Opera. Every blank tab you open shows thumbnails of the 10 sites IE9 deems you tend to visit most. Clicking a thumbnail opens a new tab connecting you to that site. However, like the color coding system applied to tabs, the additional graphical information shown in this feature is ill-defined. Each thumbnail has a bar below it, and this bar's length is based on the site's supposed status ("very active," "active," and "less active"). Huh? We'll assume this reflects the amount of memory, CPU cycles, or karma points each page uses, but this isn't clearly stated. Worse, the color of the bar below a thumbnail is meaningless -- it is pulled from one of the colors used for the Web site's favicon and, otherwise, does not appear to convey any important technical information.
5.2.2. 2. Putting it bluntly, editing your list of Favorites (i.e. bookmarks) still stinks in IE9 beta. No improvement has been implemented for the way your Favorites list is managed (i.e. renaming, deleting, moving, etc.) in IE9 beta. To be fair, none of the other major browsers present managing your bookmarks in a good way. We're hoping this is one area that the IE9 developers will address before the browser's final release.
6. Define: Browser-1. a person or thing that browses. 2. Computers . a software program that allows the user to find and read encoded documents in a form suitable for display, especially such a program for use on the world Wide web.
7. Sources
7.1. minimum 5 sources, only most recent versions as shown:
7.1.1. Shorten your URLs at the following link:
7.1.2. http://bit.ly/
7.2. http://bit.ly/g6QR0G
7.3. http://bit.ly/eLg8NV
7.4. http://bit.ly/e9BAnP
7.5. http://bit.ly/hWoahC
7.6. http://cnet.co/hwiwaZ
7.7. http://bit.ly/hs3GTW
7.8. http://bit.ly/bd0puO
7.9. http://cnet.co/EKFKv
7.10. http://bit.ly/12D62l
7.11. http://cnet.co/rIQ9K
8. Define: HTML5-is the next revision of the Hypertext Markup Language (HTML), the standard programming language for describing the contents and appearance of Web pages
9. Marketshare
10. To Flash or Not to Flash