It is not Ok to sneak food into the movies because tickets don't make theaters much money, You could get punished for sneaking in food, and It's just immoral
by Michael Dahm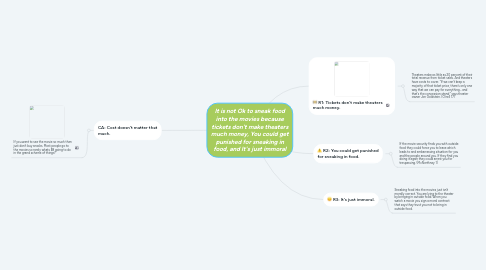 1. R1: Tickets don't make theaters much money.
1.1. Theaters make as little as 20 percent of their total revenue from ticket sales. And theaters have costs to cover. "If we can't keep a majority of that ticket price, there's only one way that we can pay for everything... and that's the concession stand," says theater owner Jon Goldstein. (O'neil 17)
2. R2: You could get punished for sneaking in food.
2.1. If the movie security finds you with outside food they could force you to leave which leads to and embarrassing situation for you and the people around you. If they find you doing it again they could arrest you for trespassing. (McNerthney 1)
3. R3: It's just immoral.
3.1. Sneaking food into the movies just isn't morally correct. You are lying to the theater by bringing in outside food. When you watch a movie you sign a moral contract that says they trust you not to bring in outside food.
4. CA: Cost doesn't matter that much.
4.1. If you want to see the movie so much then just don't buy snacks. Most people go to the movies so rarely whats $8 going to do in the grand scheme of things?