UK Digital Strategy, Section 3: The Digital Sectors
by Sarah Clinch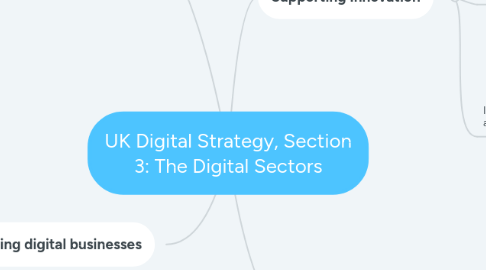 1. Supporting Innovation
1.1. An effective tax structure - Patent Box, Seed Enterprise Investment Scheme, Enterprise Investment Scheme.
1.2. Strong supply of skilled workers - domestic skills development and attracting global talent.
1.3. Regulation that keeps pace with technological change
1.3.1. Challenger Business Programmes to address regulations that pose the largest barriers to the adoption of disruptive technologies
1.3.2. Dynamic and flexible intellectual property (IP) regime, including research into IP rights for 3D files and products.
1.4. Increasing the level of research and development
1.4.1. Government funding for R&D and Innovation including the Digital Catapult, Alan Turing Institute, Hartree Centre, UK Robotics and Autonomous Systems (UK-RAS) Network and Industrial Strategy Challenge Fund.
1.4.2. Supporting early-stage digital companies and innovators in universities.
2. Supporting digital businesses
2.1. Helping entrepreneurs and early-stage digital companies to commercialise ideas through accelerators, mentoring, and export assistance
2.2. Supporting emerging technologies including Internet of Things, connected and autonomous vehicles, artificial intelligence and virtual reality
2.3. Supporting new and growing businesses with a particular focus on video games and cyber security.
2.4. Increasing the level of investment through attracting international investment and British Business Bank investment.
2.5. Maximising the impact of our specialist digital sectors including HealthTech and FinTech
3. Widening public sector procurement
3.1. Promote the use of the Digital Marketplace by local government and wider public sector bodies
3.2. Review of how the Small Business Research Initiative (SBRI) can support digital innovation
4. Spreading the growth across the whole country
4.1. Supporting and growing digital clusters by working with Tech City UK and Tech North
4.2. Encouraging innovation in digital for social good