Restore to Balance
by Julie Jones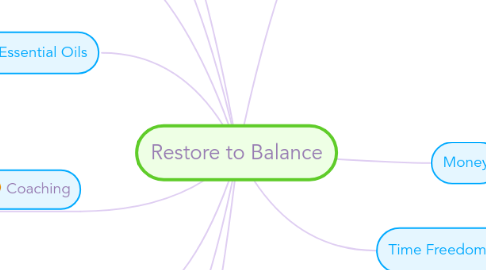 1. Location
1.1. Follow our blog to never miss an important update, downtime warning or tutorial!
1.2. High Point Shop
1.2.1. Online
1.2.1.1. Travel and Teach
1.3. website
2. Social Media
2.1. Download our native mobile apps for iOS and Android to mind map on the go!
2.2. Instagram
2.2.1. Facebook
2.2.1.1. Pinterest
2.2.1.1.1. Twitter
3. Coaching
3.1. With our short tutorial videos you can get to know MindMeister's most important features in a matter of minutes
3.2. Dream Coach
3.2.1. True Purpose Coach
3.2.1.1. Nutrition Transition Coach
3.2.1.1.1. Holistic Life Coach
4. Essential Oils
4.1. Visit the MindMeister Academy to learn all the tricks and become a great mapper in no time!
4.2. Sales
4.3. Education
5. Energy Worker
5.1. To view the most important shortcuts, click on the question mark in the bottom right corner of your map editor, then click "Key Shortcuts"
5.2. Healing Touch Practitioner
5.2.1. Aromatherapy as Energy
6. Time Freedom
6.1. Add a sibling idea by hitting ENTER
6.2. This is a sibling idea
6.3. Add a child idea by hitting TAB
6.3.1. This is a child idea
6.4. Choose icons and images to decorate your mind map
6.5. Connect topics with the arrow tool in the upper left corner of your screen
6.6. Add links, tasks or files to your topics, using the widgets in the sidebar
6.7. Change your map layout by opening the layout options in the upper left corner of your screen
6.8. Advanced
6.8.1. Open the Theme menu from the bottom of your map editor to change your map theme
6.8.2. Create a presentation of your mind map by clicking the presentation icon in the bottom left corner of your screen
6.8.2.1. Simply hold down COMMAND i.e. CTRL and Click & Drag to create a slide for one or multiple topics
6.8.2.2. Set transitions for your slides
6.8.2.3. Click "Start Slideshow" to view your presentation
6.8.3. Open the Sharing Settings from the bottom of your map editor to share the map with a friend or publish it to the web
6.8.3.1. You can share your map with anyone via email
6.8.3.2. You can publish your map and enable anyone with an internet access to find it
6.8.3.3. You can embed your map on a blog or website
6.9. Travel
6.9.1. Cruise
6.9.1.1. Sleep at night
7. To live authentically, fully and to grow, learn, and serve with a whole heart. I want others to know that I deeply love and accept them how and where they are. My one word purpose - TO SERVE
8. Money
8.1. earn 30000/year for the next year
8.2. Goal is to earn 80,000/year in 10 years
9. Clients
9.1. need six new clients
9.1.1. healing touch/energy
9.1.1.1. coaching
9.1.2. coaching
9.2. online
9.2.1. in person
9.2.1.1. groups
9.2.1.1.1. individual
10. Book Initiative
10.1. 365 Series
11. Direct Sales
11.1. It Works
12. Blog for ghost website
13. Mission - to help people live healthier lives, to value themselves, and to honor themselves by doing self care that nourishes them. My company is to help others restore balance in their lives - bodymindspirit
14. Inside Mission - to live my life in integrity, to use my God given abilities for good and to leave the world a better place -
15. Values include: Make a contribution, family, friends, Whole Body Health, Spiritual Growth, treasure the moments