Choosing Brand Elements to Build Brand Equity
by Andrea Celis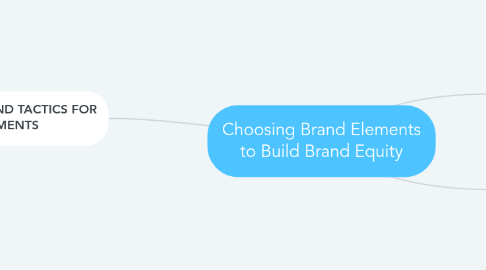 1. Brand elements
1.1. URLs, logos, symbols, characters, spokespeople, slogans, jingles, packages, and signage.
2. CRITERIA FOR CHOOSING BRAND ELEMENTS
2.1. 1. Memorable 2. Meaningful 3. Likable 4. Transferable 5. Adaptable 6. Protectable
3. OPTIONS AND TACTICS FOR BRAND ELEMENTS
3.1. Brand Names, Naming Guidelines, Brand Awareness, Familiarity and Meaningfulness, Differentiated, Distinctive, and Unique , Brand Associations
3.1.1. EXAMPLES SURNAME: Dell, Siemens, Gillette DESCRIPTIVE: American Online, Pizza Hut, General Motors INVENTED: Häagen-Dazs, Kodak, Xerox CONNOTATIVE: Duracell, Humana, Infiniti BRIDGE: Westin, DaimlerChrysler, ExxonMobil ARBITRARY: Apple, Yahoo!, Infiniti
3.2. SLOGANS are short phrases that communicate descriptive or persuasive information about the brand. They often appear in advertising but can play an important role on packaging and in other aspects of the marketing program.
3.2.1. BENEFITS Some slogans help build brand awareness by playing off the brand name in some way, as in "The Citi Never Sleeps."
3.3. PUTTING IT ALL TOGETHER
3.3.1. Each brand element can play a different role in building brand equity, so marketers "mix and match" to maximize brand equity.
3.4. JINGLES
3.4.1. Are musical messages written around the brand, perhaps most valuable in enhancing brand awareness
3.5. PACKAGING
3.5.1. is the activities of designing and producing containers or wrappers for a product. Like other brand elements, packages have a long history.
3.5.1.1. From the perspective of both the firm and consumers, packaging must achieve a number of objectives:58 • Identify the brand. • Convey descriptive and persuasive information. • Facilitate product transportation and protection. • Assist in at-home storage. • Aid product consumption.
3.5.1.1.1. BENEFITS PACKING one of the strongest associations consumers have with a brand is inspired by the look of its packaging. New packages can also expand a market and capture new market segments.Packaging changes can have immediate impact on customer shopping behavior and sales