BQ TO DO LIST
by Ben Quinlan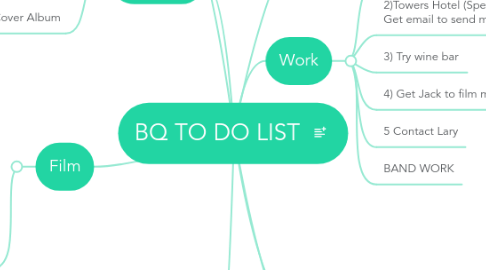 1. At Home
1.1. Songwriting
1.2. Original Album
1.3. Cover Album
2. Film
2.1. In regards to the film, make it clear to Damien I'm not going to Cenacolo, I believe i heard you were in correspondence with my parents.. If you want truthful material i can write about all my past experiences searching for a place to be loved and accepted and how spirituality and giving of myself out of love. I can write a song based upon my past and into the present..I simply cannot go there its not practical i need to keep house and food over my head and I've to get work for the season.
3. Disability Allowance
3.1. 1)Bank Statement
3.2. 2) Rewrite appendix 1-3
3.3. 3) Get letter from Tina
4. Work
4.1. 1)Plaza (Email & Meet Igor, get email to send cv)
4.2. 2)Towers Hotel (Speak with Siobhan & Paul) Get email to send music cv.
4.3. 3) Try wine bar
4.4. 4) Get Jack to film my audition video
4.4.1. Good song choice and Good dance moves
4.5. 5 Contact Lary
4.6. BAND WORK
5. Family Keep my Distance
5.1. They will heal in time and be happy to see me when I'm up being more successful.
6. Car Theory Test
6.1. Practice cd rom in computer shop in town
7. Search for House
7.1. 372pm min but may pay more
8. Practice for all gigs