Sound Waves
by
Ian Wu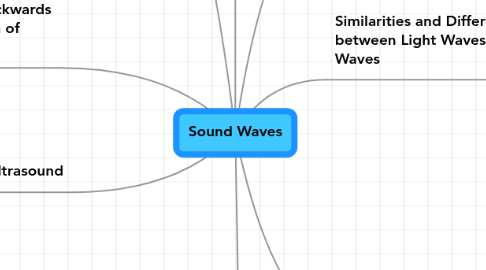 4.5
stars -
8
reviews range from
0
to
5
Sound Waves
Propagation of Sound
Motion
Production
Waveforms
Transmission of Sound
Medium
Factors
Sound travels at different speeds in gases, liquids and solids.
Speed of Sound
In Gases
In Liquids
In Solids
Speed of Sound in: Solids > Liquids > Gases
Calculation of Speed of Sound
Factors Affecting the Speed of Sound
Reflection of Sound
Echo
Reverberation
Perception and Audibility of Sound
Pitch
Loudness
Audible Frequencies
Ultrasound
Ultrasound is a type of sound wave with frequencies above the upper hearing limit, i.e., more than 20 kHz.
Examples of Ultrasound Use
Sound is energy propagated in the form of longitudinal waves in which particles of the medium vibrate backwards and forwards in a direction parallel to the direction of propagation of the wave itself.
Similarities and Differences between Light Waves and Sound Waves
Similarities
Differences