Las matematicas y los Negocios
by monica martinez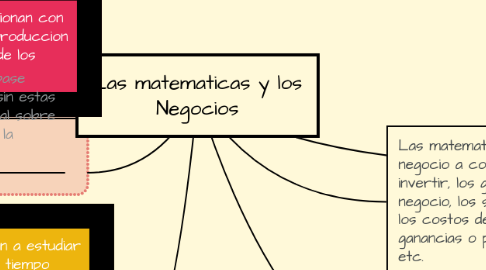 1. Las matemáticas se relacionan con los movimientos económicos, inversiones y negociaciones.
2. Las matematicas aportan a los negocios las metodologias para hacer uso del analisis yt solucion de algunos problemas.
2.1. English
2.1.1. Text book p. 55-60
2.1.2. Joseph Conrad "Heart of Darkness"
3. Las matemáticas ayudan a estudiar el valor del dinero en el tiempo combinando el capital, la tasa y el tiempo para conocer un rendimiento o interés. Lo cual contribuye a tomar decisiones de inversión.
3.1. Physics
3.1.1. Research and prepare experiment
4. Las matematicas se relacionan con el control de costos, de produccion asi como la depreciacion de los equipos
4.1. Spanish
4.1.1. New vocabulary
5. Las matematicas ayudan al negocio a conocer el capital a invertir, los gastos de montar el negocio, los salarios del personal, los costos de produccion, las ganancias o perdidas del negocio, etc.
6. Las matematicas son la base fundamental del negocio sin estas no habria informacion real sobre la situacion financiera de la empresa.