AUTISM- "LIGHT IT UP BLU"
by Thảo Trang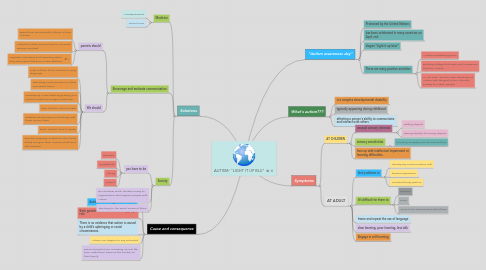 1. What's autism???
1.1. is a complex developmental disability
1.2. typically appearing during childhood
1.3. affecting a person's ability to communicate and interact with others
2. Symptoms
2.1. AT CHILDREN
2.1.1. unusual sensory interests
2.1.1.1. sniffing objects
2.1.1.2. staring intently at moving objects
2.1.2. sensory sensitivities
2.1.2.1. avoiding everyday sounds and textures
2.1.3. face up with intellectual impairment or learning difficulties.
2.2. AT ADULT
2.2.1. find problems in
2.2.1.1. developing communication skill
2.2.1.2. faceless expression
2.2.1.3. unnatural body posture
2.2.2. It's difficult for them to
2.2.2.1. concern
2.2.2.2. share
2.2.2.3. come in for achievement with others
2.2.3. frame and repeat the use of language
2.2.4. slow learning, poor learning, less talk
2.2.5. Engage in self harming
3. Cause and consequence
3.1. Autism has no single, known cause
3.2. Both genetics and environment may play a role
3.3. There is no evidence that autism is caused by a child's upbringing or social circumstances.
3.4. Autism can happen to any individual
3.5. prevent people from accessing normal life, even make them become the burden to their family
4. Solutions
4.1. Medicine
4.1.1. Antidepressants
4.1.2. nerve tonics
4.2. Encourage and motivate communication
4.2.1. parents should
4.2.1.1. spend time and patiently talking to their children
4.2.1.2. Adapt the child's environment to minimise sensory overload
4.2.1.3. regularly motivating and rewarding when they show good behavior is also effective
4.2.2. We should
4.2.2.1. Help children to be creative in using language
4.2.2.2. restricting communication in other non-verbal forms
4.2.2.3. Developing a new habit by guiding your child to handle some typical behavior
4.2.2.4. help children communicate
4.2.2.5. establish relationships and feelings with those around them
4.2.2.6. teach children how to speak
4.2.2.7. develop language suitable for the child's ability and give them a sense of self and self-assertion
4.3. Society
4.3.1. you have to be
4.3.1.1. Sensitive
4.3.1.2. Sympathetic
4.3.1.3. Willing
4.3.1.4. Patient
4.3.2. do volunteer work, donate money to organizations that support people with Autism
4.3.3. standing for the equal access of them
5. "Autism awareness day"
5.1. Promoted by the United Nations
5.2. has been celebrated in many countries on April 2nd
5.3. slogan "Light it up blue"
5.4. There are many positive activities
5.4.1. "Autism Friendship game"
5.4.2. Building college that teach and companies that hire Autistic
5.4.3. In Viet Nam, we also raise awareness of Autism with the goal to be a friendly society to Autism people