Preparing for a interview at Baskin Robins
by ZAY HARRIS-JOHNSON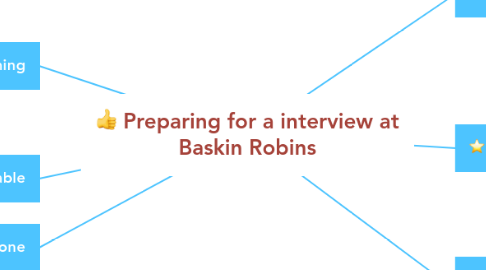 1. Cleaning
1.1. I clean my families dishes daily
1.2. I clean after my dog
1.3. I don't have any allergies to cleaning supplies
2. Being Friendly
2.1. On 99.9% of the day I have a positive attitude towards others and myself
2.2. I usually said Hi, Good Morning, Good Afternoon, and how are you to people I don't know.
3. Bringing in sales
3.1. I know a lot of friends and family who like icream.
3.2. I can advertise on social media platforms with my account.
3.3. I could publicly hold signs
4. Being Pay
4.1. I can agociate the money I get paided.
4.2. I don't have to get paided unless I do quality work.
5. Time Available
5.1. I am available Monday - Friday
5.1.1. 8:30 -5:30
6. I get work done
6.1. I won't finish work until I get my work done.