WEB 2.0 TOOLS IN EDUCATION
by Amelia Wallace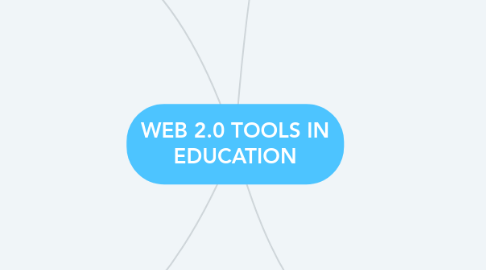 1. Social/ Media Communication
1.1. Twitter
1.1.1. Online news and social networking service. Tags allow for information to be sorted and immediate feedback to tweets.
1.2. Skype
1.2.1. Instant messaging application that allows for text messages, video chatting, and audio phone conversations.
1.3. Facebook
1.3.1. online social media and network site. Can allow for group collaboration and learning/sharing. Links to several sites that operation with Facebook and the tools Facebook provides its users.
2. Studying
2.1. Evernote
2.1.1. Digital note taking. Can do screen capturing and allow for text and notes added to capture, audio notes that can be transferred to text, creat journal, organize notes and tag information as individually fitting, image sharing... online scrapbook of your own organized thoughts and notes.
2.2. Quizlet
2.2.1. online study/learning tool that allows for sharing of notes, creation of flashcards, practice tests and more.
3. Collaborating
3.1. Flickr
3.1.1. Photo- sharing site, connects members throughout a ginormous community. Can create, share and follow groups of your choosing. Allows for visual exploration
3.2. Pinterest
3.2.1. Site where users can upload, save, share and create pins (images) to boards. Creative host of Ideas, simulations, and motivation hub for all projects. Boards can have several users able to pin information/images/videos.
3.3. DropBox
3.3.1. File hosting service that allows for all documents, images, audio files, videos, etc., to saved and shared among a common server to multiple devices that are granted access to said files.
3.4. Google Drive
3.4.1. Allows for files and documents to be saved to "the cloud." Also provides services for free collaboration/creation of presentations, documents, spreadsheets, and more all on a single drive site
4. Presenting
4.1. Voice Thread
4.1.1. Multimedia slide show that allows users to do voice overs, allows commenting throughout thread (as audio, text, webcam, etc.)
4.2. PiktoChart
4.2.1. Web- based info-graphic, makes posters look professional. Allows for links, images, audio to be created on info-graphic. Can be shared, published, and printed
4.3. Prezi
4.3.1. Visual presentation software, allows for presentation of material to be shared, collaborated, and presented in a dynamic way. More professional and interactive version on powerpoint
4.4. WordPress
4.4.1. Blogging website, creative and user friendly writing platform