BADMINTON 2º ESO BILINGUE
by ricardo montiel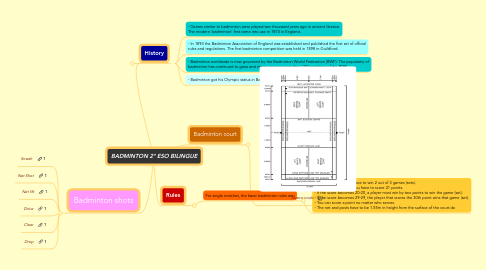 1. History
1.1. - Games similar to badminton were played two thousand years ago in ancient Greece. The modern 'badminton' first came into use in 1873 in England.
1.2. - In 1893 the Badminton Association of England was established and published the first set of official rules and regulations. The first badminton competition was held in 1898 in Guildford.
1.3. - Badminton worldwide is now governed by the Badminton World Federation (BWF). The popularity of badminton has continued to grow and there are now more than 150 members of the BWF.
1.4. - Badminton got his Olympic status in Barcelona 1992.
2. Badminton shots
2.1. Smash
2.2. Net Shot
2.3. Net lift
2.4. Drive
2.5. Clear
2.6. Drop
3. Rules
3.1. For single matches, the basic badminton rules are:
3.1.1. - To win a match, you have to win 2 out of 3 games (sets). - To win a game (set), you have to score 21 points. - If the score becomes 20-20, a player must win by two points to win the game (set). - If the score becomes 29-29, the player that scores the 30th point wins that game (set). - You can score a point no matter who serves. - The net and posts have to be 1.55m in height from the surface of the court.do
4. Badminton court
4.1. Nuevo nodo