BADMINTON 2º ESO BILINGUE
by
ricardo montiel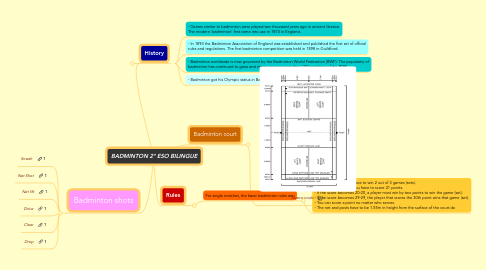 0.0
stars -
0
reviews range from
0
to
5
BADMINTON 2º ESO BILINGUE
- Games similar to badminton were played two thousand years ago in ancient Greece. The modern 'badminton' first came into use in 1873 in England.
- In 1893 the Badminton Association of England was established and published the first set of official rules and regulations. The first badminton competition was held in 1898 in Guildford.
- Badminton worldwide is now governed by the Badminton World Federation (BWF). The popularity of badminton has continued to grow and there are now more than 150 members of the BWF.
- Badminton got his Olympic status in Barcelona 1992.
Rules
For single matches, the basic badminton rules are:
Badminton court
Nuevo nodo
Badminton shots