SOFTWARE DEVELOPER
by Cody Scavuzzo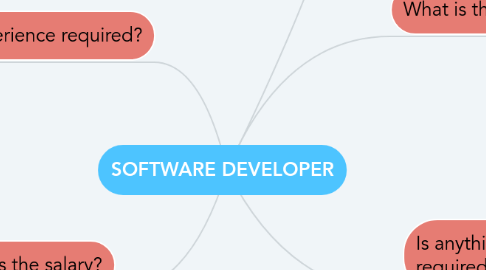 1. The career interest I will explore is being a software developer. Software developers create programs that help with completing tasks.
2. How much is the salary?
2.1. what is the average salary?
2.1.1. Salary data maps over years
2.2. what is the maximum salary?
2.2.1. Jobs websites details.
3. Is prior experience required?
3.1. Where would I like to work.
3.1.1. company websites
3.2. Different companies requirements.
3.2.1. Company of my interest
4. Is anything besides a degree required?
4.1. what programming language is most valued/used?
4.1.1. Programming webistes
4.2. What certifications are required?
4.2.1. software developer job requirements site
5. What is the demand?
5.1. Has the demand increased or decreased?
5.1.1. Job demand websites.
5.2. Look at recent years demand
5.2.1. Google