Polish Volunteer Summary (April 2017)
by Lukasz Rogala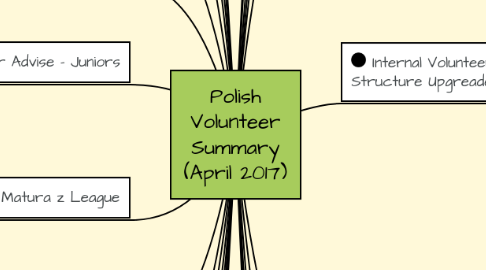 1. Expanding Develop Project Management - AGILE environment (How we work more efficient) - Lectures
1.1. Executing more and more the development
1.2. Rising awareness of self-development inside volunteers
2. Puchar Runeterry - 2nd Edition
2.1. It is basically a BattleGrounds tournament but made and arranged in 100% by volunteers
2.2. Require GER help
3. Basic translation tasks that Polish Rioters do not have time to do extra
3.1. QA's
3.2. Dev Corners
3.3. Major changes & updates
4. Recruiting process
4.1. Almost 2x more Polish Volunteers
5. Brain Storming Sessions with Polish Rioters
6. Participating in different projects Globally - PB Knowledge and etc ....
7. Tuesday's weekly topics for Community
7.1. Small private Spotlights on something outside Polish Community (Board)
8. Mod Rights for News Comments - to destroy phishing links + keep moderated content for players via volunteers
8.1. Develop punishment strategy for all kind crimes. It's more HARSH than Boards ones.
8.2. Expanding limits to MAXIMUM
8.3. Shooting down HTML link at NEWS
9. Polish Moderation Tool
9.1. Developing Italian & Spanish language
9.2. Detecting more Apollo's bugs and prevent them
9.3. Adding more anti-scam cut_urls & words into BLACKLIST
10. Internal Volunteer Structure Upgreades
10.1. More Global aims
10.2. More Global projects that involve co-op = by raising limits from 1-2 project per quater into more small ones to co-op
10.3. Senior Role - New definition
10.3.1. Developing it design into more SCRUM oriented theme
10.3.2. No more dinosaurs as Seniors
10.3.3. New branches for Senior & Members ranks internally
10.3.3.1. Project Managers
10.3.3.2. Arts
10.3.3.3. Self-Devolopment
10.3.3.4. Community
10.4. Changing policy how VOLUNTEER is for RANDOM GUY
10.4.1. Discussions with Rioters
10.4.2. Experience first then REST
10.5. More Agile oriented approaches towards projects
10.5.1. Scrum
10.5.2. Heavylighted or Lightlighted methodologies
10.5.3. Kanban vs Waterfall
10.5.4. Favro testing
11. Research of topics & content for Boards - by Juniors
12. More Advanced Recruiting Process than before
12.1. More official promotion via Facebook
12.2. New method to check-out candidates
12.3. Global English Interviews
12.4. Confirmation via E-mails for everyone
13. Preparing Content for Flying Circus & Cerebrum Livestream
13.1. Graphical aspect for Stream
14. Recruiting Results - Retrospective
14.1. Setting new Goals for II - II Quater of 2017
14.2. Reviewing application forms base on IDEAS proposed and potentially used by volunteers
15. Developing a strategy for project "Worthy Content"
16. Global Volunteer Website
16.1. Adding all volunteers profiles
16.2. Checking & Fixing & Updating Projects
16.2.1. Developing a method how the current project will be updated on the website
17. New Player Advise - Juniors
17.1. Content for Newbs
17.2. Tutorials
17.3. Gameplay helpers
18. Matura z League
18.1. Global aspect
18.1.1. Invitation for other program to particiapitae
18.2. Form
18.2.1. Global Volu page or Google
18.3. Riot prizes
18.3.1. requirements & Global aspect
18.4. Quizz for the best League lore masters
19. Reviewing the Riot's Blacklist URL LInks - potential use in future
20. Seeker's Board Content particiaption
21. The Buddy System Project
21.1. Sharing knowledge & project managing aspects with other volunteers
21.2. Execution part DONE
21.3. Content
21.4. Future Editions - planning
22. Clearing the Volunteers - kicking / expelling / demoting
23. Polish Community Discord
24. Friday Mayhem - Volunteer Social Games
25. Internal Lectures
25.1. DISC
25.2. PM
25.3. PS
25.4. Psychology
26. Self - Development Approach
26.1. More diving into how to be advanced what we do - sharing experience via different ways
27. Facebook Profile - Volunteers Poland
28. Polish Edition of Volucon
29. Preparing content & presentation for PGA
30. Expanding Board Script - into Polish Board
30.1. Translating script
30.2. Testing & oollecting feedback