Student Assessments Robert Nappa M6U1A1
by Rob Nappa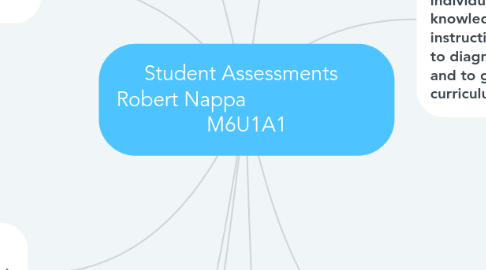 1. Diagnostic is a form of pre-assessment that allows a teacher to determine students' individual strengths, weaknesses, knowledge, and skills prior to instruction. It is primarily used to diagnose student difficulties and to guide lesson and curriculum planning.
1.1. Purpose: For teachers to know how to plan the future lessons, based on the prerequisite knowledge the students show through the assessment.
1.2. Advantage: Teachers know the levels and prior knowledge of their students. This way, students can be caught up and review the material. It establishes a baseline for the class.
1.3. Disadvantage: A teacher could incorrectly evaluate a student.
1.4. Example: A review worksheet or discussion on the first day of a new lesson. In math, the 4 operations must always be known beforehand, so the teacher can have an ungraded quiz to assess.
2. Formative assessments are procedures conducted by teachers during the learning process in order to modify teaching and learning activities to improve student attainment.
2.1. Purpose: The teacher can make sure that the students are keeping up with the lessons and are on the right track for becoming masters in the material.
2.2. Advantage: Students can know they are ready for the next lesson and the teacher knows who needs special attention to help them catch up.
2.3. Disadvantage: Teachers can lose precious time by continually making formative assessments.
2.4. Example: Ungraded homework, discussion questions, or a review game.
3. Summative is to evaluate student learning at the end of an instructional unit by comparing it against some standard or benchmark.
3.1. Purpose: For a teacher to know the student has learned the unit and lessons by the end of that period.
3.2. Advantage: Students pay attention and study the material in preparation for a summative assessment.
3.3. Disadvantage: Summative assessments are closely tied with teacher performance, so a teacher could "teach the test."
3.4. Example: State-wide standardized tests, college entrance exams, midterms, and finals.
4. Performance-Based measures students' ability to apply the skills and knowledge learned from a unit or units of study.
4.1. Purpose: To show that the students can use what they learned across different disciplines or complete a task that isn't a test using their knowledge.
4.2. Advantage: these tests will prompt educators and school officials to identify the skills and knowledge they want their students to acquire and to focus on teaching students this information.
4.3. Disadvantage: Teachers have to decide how to grade and what distinguishes an average performance from an excellent one.
4.4. Example: Group projects enabling a number of students to work together on a complex problem that requires planning, research, internal discussion, and group presentation. Also, portfolios!
5. High-Stakes is a test with important consequences for the test taker.
5.1. Purpose: To make sure the students are meeting the standards put in place by an institution or a board of educators.
5.2. Advantage: Data from statewide testing is almost always publicly available. As a parent, you can look at these results to see how well, or poorly, your child's school is performing.
5.3. Disadvantage: Increased pressure on teachers, students, and parents.
5.4. Example: SATs, State-wide standardized tests.
6. Portfolio is a systematic collection of student work and related material that depicts a student's activities, accomplishments, and achievements in one or more school subjects.
6.1. Purpose: For students to see all the work they have done through a unit, from start to finish
6.2. An advantage is that students can see how they have progressed and how they have changed/imporved
6.3. Example: Art students keep all of their different pieces that have been completed in a large artwork binder.
7. Authentic aims to evaluate students' abilities in 'real-world' contexts.
7.1. Purpose: students learn how to apply their skills to authentic tasks and projects.
7.2. Advantage: Promotes creativity and collaborative work.
7.3. Disadvantage: Time-intensive to manage, monitor, and coordinate
7.4. Example: Portfolios, self-assessment. All while following a rubric or guidelines.
8. Self-Assessment is when the student reflects or grades on their work and learnings through the unit. Uses established criteria.
8.1. Purpose: To increase student responsibility and involve students in critical reflection.
8.2. Advantage: Encourages students to take responsibility for their own work and learn how to evaluate their own work.
8.3. Disadvantage: Students could be dishonest and inflate grades.
8.4. Example: Students can grade their own work or experience after a finished project or test.
9. Peer-Assessment is a process whereby students' peers grade assignments or tests. Uses established criteria.
9.1. Purpose: Students gain an understanding of their peers, how they work, and can judge their peers based on benchmarks.
9.2. Advantage: Can ease the workload of an instructor, as the students are grading each other for you.
9.3. Disadvantage: Students could be dishonest and inflate grades.
9.4. Example: Students complete assessment forms about their peers after a finished project.