What are some changes in atmospheric conditions caused by bodies of water?
by sarah ding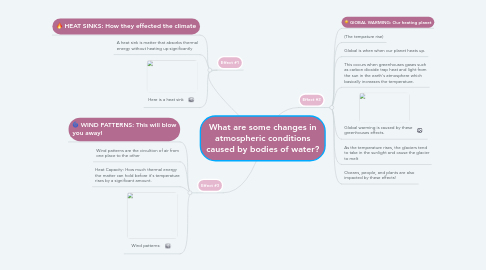 1. Effect #3
1.1. WIND PATTERNS: This will blow you away!
1.2. Wind patterns are the circultion of air from one place to the other
1.3. Heat Capacity: How much thermal energy the matter can hold before it's temperature rises by a significant amount.
1.4. Wind patterns:
2. Effect #1
2.1. HEAT SINKS: How they effected the climate
2.2. A heat sink is matter that absorbs thermal energy without heating up significantly
2.3. Here is a heat sink
3. Effect #2
3.1. GlOBAL WARMING: Our heating planet
3.2. (The tempature rise)
3.3. Global is when when our planet heats up.
3.4. This occurs when greenhouses gases such as carbon dioxide trap heat and light from the sun in the earth's atmosphere which basically increases the temperature.
3.5. Global warming is caused by these greenhouses effects.
3.6. As the temperature rises, the glaciers tend to take in the sunlight and cause the glacier to melt
3.7. Oceans, people, and plants are also impacted by these effects!