What do people do to stay healthy in your country?
by Hoàng Nguyễn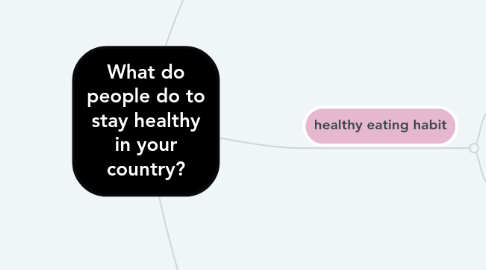 1. regular exercise
1.1. do physical exercies
1.1.1. play sports
1.1.2. do yoga, aerobic
1.1.3. go jogging, walking
1.2. take part in physical activities
1.2.1. participate to competition about sport in school, office or living area
1.2.2. participate to social campaigns such as running, walking or cycling.
2. healthy eating habit
2.1. consume the right amount of food
2.1.1. eat plenty of fruit and vegetable
2.1.2. eat meat, fish, dairy foods
2.1.3. drink a lot of water
2.2. avoid stimulants
2.2.1. avoid smoking cigarettes
2.2.2. avoid drinking alcohol
3. positive thinking
3.1. avoid tress
3.2. keep a diary to reflect your thoughts
3.3. combate negative thoughts
3.4. avoid "black-and-white" thinking
3.5. avoid "personalizing"
3.6. visit a peaceful place
3.7. live an optimistic life
3.8. set meaningful goals
3.9. surround yourself with positive people