DECISIONES SOBRE LA DISTRIBUCION
by Itzel Valencia Gonzalez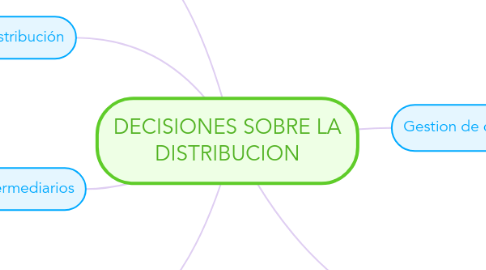 1. Tipo de distribución
1.1. Exclusiva: venta de producto en un solo punto de venta Selectiva: venta de un área geográfica Intensiva: el mayor numero de ventas y lograr la mas alta exposición
2. Dirección de distribución
2.1. Se encarga de la selección del canal de distribución, localización y dimensión de los puntos de ventas, logística de la distribución y todo ello para una mejor asignación de recursos económicos.
3. Canal de distribución
3.1. Es el medio por el cual el producto llega al destino final y este camino se le llamada intermediarios, son los que facilitan la circulación del producto hasta que llegue a manos del consumidor y regularmente ellos son independientes del productor.
4. Instrumento de marketing
4.1. Es el medio de importancia ya que unifica la producción con l consumo y su objetivo es que el producto este a tiempo con el consumidor
5. Funciones de los intermediarios
5.1. Sus funciones parten desde los intercambios, adecuación de la oferta y demanda, creación del surtido, movimiento físico del producto a su ultimo destino, realizar las actividades de marketing y la transmisión de la propiedad, posesión o derecho del producto.
6. Gestion de distribucion
6.1. El canal de distribución esta condicionado por las características del mercado y producto.
6.2. consiste en lograr interesar al cliente final al cual esta destinado nuestro producto
6.3. El canal corto consiste en que el consumidor final llega de forma inmediata al productor
6.4. Canal Largo consiste en que el consumidor final depende de los intermediarios para la adquisición del producto
6.4.1. Open the Theme menu from the bottom of your map editor to change your map theme
6.4.2. Create a presentation of your mind map by clicking the presentation icon in the bottom left corner of your screen
6.4.2.1. Simply hold down COMMAND i.e. CTRL and Click & Drag to create a slide for one or multiple topics
6.4.2.2. Set transitions for your slides
6.4.2.3. Click "Start Slideshow" to view your presentation
6.4.3. Open the Sharing Settings from the bottom of your map editor to share the map with a friend or publish it to the web
6.4.3.1. You can share your map with anyone via email
6.4.3.2. You can publish your map and enable anyone with an internet access to find it
6.4.3.3. You can embed your map on a blog or website
7. se puede emplear la estrategia de aspiración como lo es el inspirar al comprador final e invertir en una buena imagen de marca.