CODING
by laura calvo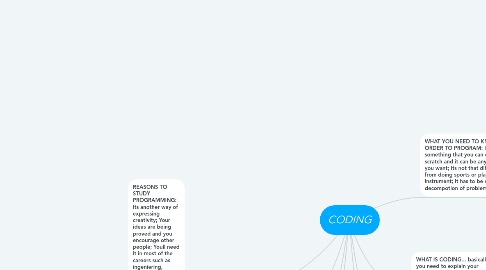 1. WHAT YOU NEED TO KNOW IN ORDER TO PROGRAM: Its something that you can do from scratch and it can be anything you want; Its not that different from doing sports or playing an instrument; It has to be with the decompotion of problems.
2. WHAT IS CODING... basically you need to explain your computer what you want it to do for you.
3. REASONS TO STUDY PROGRAMMING: Its another way of expressing creativity; Your ideas are being proved and you encourage other people; Youll need it in most of the careers such as ingeniering, medicine, technology, being a teacher and much more.
4. SOME OF THE HIGH LEVEL PROGRAMMING LANGUAGES ARE: fortan, C, Pascal.
5. SOME OF THE LOW LEVEL PROGRAMMING LANGUAGES ARE: Hardware, Machine language and assembly language.
6. ADVICES WITH PROGRAMMING:we all depend on technology right now and programming will help us with that; we need to learn how to write and read codes.
7. SOME OPF THE LATEST TRENDS IN PROGRAMMING INCLUDE:: the last script of java; backend as a service; and easy managment and deployment.
8. IT HELPSA IN THE SOCIETY TO|: solve problems; protecting people and organizartions; improving communications and impacting every area of society