LAW OF CONTRACT
by ieyra qieyra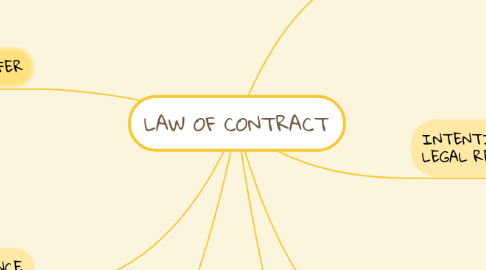 1. Guidelines
1.1. Anything goes!
1.2. No criticism or flaming allowed
1.3. The Wilder The Better
1.4. Quantity is Quality
1.5. Set a Time Limit
2. INTRODUCTION
2.1. -An agreement enforceable by law
2.2. -An agreement which is legally binding between the parties
2.3. -In Malaysia, the governing legislation is CONTRACT ACT 1950.
3. OFFER
3.1. one party make the offer, another party accepts the offers and both party achieve.
3.2. INVITATION TO TREAT
3.3. An invitation to treat is not an offer, it is an offer to receive or induce offer.
4. ACCEPTANCE
4.1. When the party accept the offer from offeror
4.2. the acceptance can be make in word (express) or by other than word (implied)
5. INTENTION TO CREATE LEGAL RELATION
5.1. The parties must have intended their agreement to have legal consequences. The law will not concern itself with purely domestic or social agreements.
6. CONSIDERATION
6.1. Both parties must have provided consideration, ie, each side must promise to give or do something for the other.
7. CERTAINTY
7.1. The terms and conditions must be clear in meaning. When the terms are vague it is difficult for the courts to construe what in actual fact was agreed by the parties and what are the obligations and duties arising from such terms.
8. LEGAL CAPACITY
8.1. Parties entering contract must competent/ have legal capacity to contract.
8.2. Section 11 of Contracts Act 1950: A person is competent to a contract is: -Of the age of majority - according to law -Of sound mind -Not disqualified from contracting by any law