Eye of The Tiger
by Marco Schmidt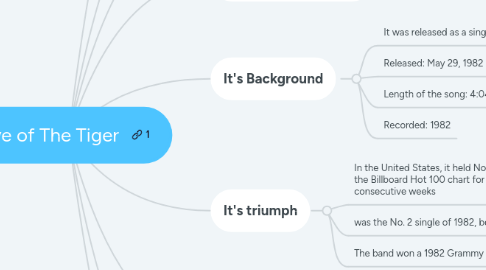 1. New node
2. New node
3. Interesting facts
3.1. This was the theme song to Rocky III, which was the biggest movie of 1982.
3.2. This was the theme song to Rocky III, which was the biggest movie of 1982.
4. More interesting facts
4.1. Stallone thought the sound, writing style and street appeal could fit in his new movie, so he called called Jim Peterik and Frankie Sullivan, who were Survivor's primary songwriters, and left messages on their answering machines.
5. The parody's triumph
6. It's Background
6.1. It was released as a single from their third album Eye of the Tiger and was also the theme song for the film Rocky III, which was released a day before the single.
6.2. Released: May 29, 1982
6.3. Length of the song: 4:04
6.4. Recorded: 1982
7. It's triumph
7.1. In the United States, it held No. 1 on the Billboard Hot 100 chart for six consecutive weeks
7.2. was the No. 2 single of 1982, behind Olivia Newton-John's "Physical".
7.3. The band won a 1982 Grammy Award for "Best Rock Performance by Duo or Group With Vocal" at the 25th Annual Grammy Awards.[4]
8. Why I chose it
8.1. This song means a lot to me as I listen to it every time I do exercises for the ski season or go running to train for athletics.
8.2. It has got this unique effect that only that song has and it somehow motivates me to keep pushing myself to my personal limits.
8.3. Every time I train, I try to think of Rocky training for his boxing tournament and remember that to achieve great things, you need to put in a lot of effort.
8.3.1. New node
9. The parodies made later on
9.1. After the movie came out and when it was all popular and stuff, Al Yankovic made a parody of the song.
9.2. He made Rocky all old and working at a kebab shop and it's so funny how all rhymes and at the same time makes sense.
10. When did the parody come out???
10.1. Released: February 28, 1984
10.2. Recorded October 1–December 13, 1983
10.3. Length: 44:03