Start Download (Three pages, configuration, shortcut creation and download start (includes login)
by Wayne Rutter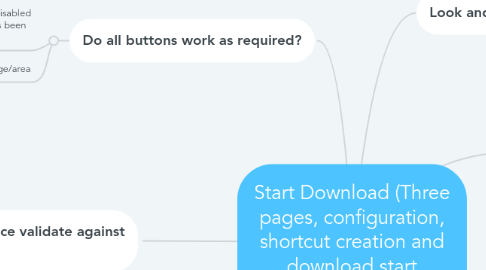 1. Look and feel
1.1. Does it have an Aconex feel?
1.2. Does it have a smooth customer experience?
2. Do all input boxes work as required?
2.1. you should not be able to edit read only inputs
2.2. Appropriate error messages are displayed
2.3. Passwords should be ********
2.4. e-mail should be [email protected] or other acceptable email format
3. Do all buttons work as required?
3.1. Next/Login buttons should be disabled until all required information has been filled in
3.2. Do they take you to the right page/area
4. Does the Licence validate against the key?
4.1. Warning messages appear when they don't match
4.2. Success messages appear when they do match
4.3. Does it just do Self Service or other types of licence
5. Do any links work?
5.1. Forgot Password etc?
6. Are you impersonating a user?
6.1. Does the impersonated user get displayed on the login page?
6.2. Can you start the download?
7. Login
7.1. If login is incorrect is a suitable message displayed?
7.2. If login is correct does Download button appear?
7.2.1. If you press the Download button does the download begin
8. Shortcut creation
8.1. Do you get an option to create shortcuts?
8.1.1. On the desktop
8.1.2. Within the start menu
8.2. Are the shortcuts created after pressing download button?
8.2.1. On the desktop
8.2.2. Within the start menu