Native Canadian Centre of Toronto http://ncct.on.ca/
by su nava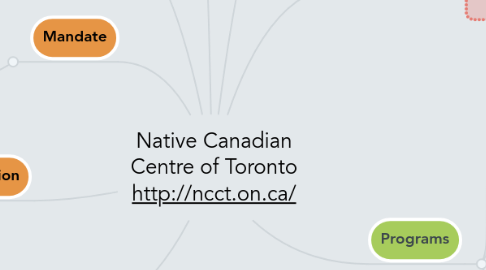 1. History
1.1. Since 1962 the Native Canadian Centre of Toronto has been a key meeting place for all people, of all nations, from across Canada and all over the world. As Toronto's oldest Indigenous community organization and one of the original Friendship Centres in Canada, the NCCT provides social, recreational, cultural and spiritual services for the Indigenous community and visitors alike.
2. Mission
2.1. To provide a welcoming space for all and deliver innovative programs and services reflecting traditional Indigenous cultural perspectives.
3. Mandate
3.1. To maintain an inclusive environment where Indigenous people can connect to their ancestry and all people can explore the value of Indigenous knowledge
4. Vision
4.1. A world that appreciates the true value of Indigenous knowledge, a community which embraces its place in that world, and a self-sufficient Centre that enables it all.
5. Values
5.1. Wisdom, Love, Respect, Bravery, Honesty, Humility and Truth
6. Programs
6.1. Indigenous Cultural Awareness Training
6.1.1. establish a process of promoting cultural competency for Indigenous relations within Canada.
6.1.2. to address complex-issues from a historical narrative that is inclusive to both Indigenous and non-Indigenous attendees.
6.2. Cultural Programs
6.2.1. activities coordinated by the Cultural Department such as drumming and dancing socials, kids activities, various ceremonies and language classes for all members of the NCCT.
6.3. Communications & Referral Office
6.3.1. Information and Referral Services that connect people in the community with service providers, information and/or linkage with other Aboriginal or Non-Aboriginal agencies.
6.4. ENAGB Youth Program & ENAGB Saswaanhs (Nest)
6.4.1. ENAGB offers educational support, physical supports, culture programming, recreational activities, Transitional Housing Support and so much more.
7. a membership-based, charitable organization located in the heart of downtown Toronto.
8. NCCT offers a wide range of programs and services based on Native cultural traditions and teachings. All are welcome.