TYPES OF COMMUNICATION
by Any Gonza de Castillo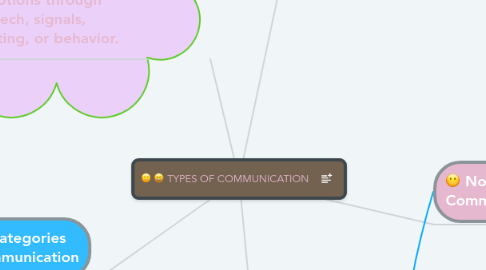 1. Tree Elements:
1.1. Appearance
1.1.1. Speaker:clothing, Hairstyle, Neatness, Use of Cosmetics.
1.1.1.1. Surrounding: Room Size, Lighting, Decorations, Furnishings.
1.2. Body Language
1.2.1. Facial Expressions, Gestures, Postures.
1.3. Sounds
1.3.1. Tone of Voice, Volume, Speech Rate.
2. The Communication is the ability to transmit messages, ideas, thoughts, feelings and emotions through speech, signals, writing, or behavior.
3. Main Categories of Communication
3.1. Formal
3.1.1. Professional Settings, Corporate Meetings, Conferences Undergoes, Formal Pattern.
3.2. Informal
3.2.1. Casual talk, Friends and Family, Slang Words, Building Relationships.
4. Nonverbal Communication
4.1. Gesture
4.2. Body Language
4.3. Posture
4.4. Facial Expressions
4.5. Eyes Contact
4.6. Touch
5. Verbal Communication
5.1. Oral
5.1.1. Face to Face Conversations
5.1.2. Speech
5.1.3. Telephonic Conversation
5.1.4. Video
5.1.5. Radio
5.1.6. TV
5.1.7. Voice Chat
5.1.8. Video Conferencing
5.2. Written
5.2.1. Via email
5.2.2. Letter
5.2.3. Memo
5.2.4. Brochures
5.2.5. Handbooks
5.2.6. Report