THE HUNGER GAMES
by Maseera Aslam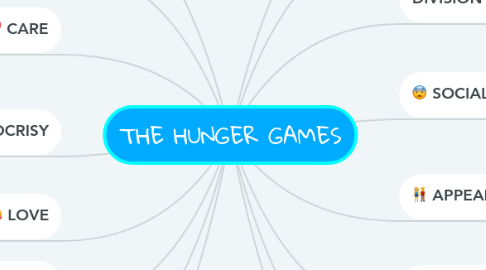 1. MAIN CHARACTERS
1.1. PEETA,GALE,PROMRPSE,PRESODENT,GALE
2. TIME:the future
3. setting the arena District 12. THE CAPITOL
4. MAIN IDEA
4.1. 24 CHILDREN HAVE TO FIGHT TO THE DEATH IN THE ARENA FOR THE CAPITOLS ENTERTAINMENT, ONLY ONE CAN WIN.
5. DIVISION AND CONTROL
5.1. President Snow maintains his control by sowing division among Panem's people—divvying up the country into twelve districts—and ensuring their dependence upon the government.
6. CARE
6.1. Because District 12 has a history of losing the Games, Katniss is essentially volunteering for a death sentence, showing that she cares more about her little sister's life than her own
7. SOCIAL INEQUALITY
7.1. wealth is heavily concentrated in the hands of those living in the Capitol, and the result is that they can't even comprehend the lives of the poor.
8. HYPOCRISY
8.1. By celebrating and watching the Hunger Games, the citizens of the Capitol suggest that the tributes, drawn from the districts of Panem, don't deserve the same security and respect that the people of the Capitol do.
9. APPEARENCE
9.1. The Hunger Games are set up as entertainment for the citizens of the Capitol and are essentially a very extreme reality television show. As with American reality TV, appearances matter a lot in the Hunger Games, and they don't always depict reality.
10. LOVE
11. CLEVERNESS
12. MIND GAMES
13. FEAR OF DEATH
14. SEARCH OF FOOD
15. CRUELTY OF RICH PEOPLE
16. LUCK