Boys and Girls Club of Ottawa http://www.bgcottawa.org/
by Meghan Storey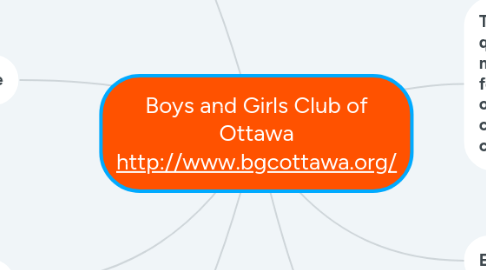 1. The Four Pillars: The variety and quality of these programs are meant to be engaging, accessible for all, and contribute towards the overall development of good citizens and leaders within the community.
1.1. Education
1.2. Physical Activity/Healthy Lifestyle
1.3. Leadership and Social Skills
1.4. Creative Arts
2. Leadership and Social Skills
2.1. Objective: Foster character building and confidence through participation in leadership and skill development activities that promote both self-acutalization and civic responsibility.
3. Educational Programs
3.1. Objective: Foster knowledge-inspired development and applied learning skills to promote positive attitudes towards education.
3.1.1. Scolarships
3.1.2. Super Teach Engeneers Program
3.1.3. Rogers Raising the Grade
3.1.4. Homework Club
4. Camp Smitty
4.1. Misson: Our mission is to provide a safe, supportive place where children and youth can experience new opportunities, overcome barriers, build positive relationships and develop confidence and skills for life.
5. Creative Arts
5.1. Objective: Foster creative expression and identity development through active participation in the arts to promote positive self-attitude.
5.1.1. Arts and Crafts
5.1.2. Music Programs
6. Physical Activity/Healthy Lifestyle
6.1. Objective: Foster self development through constructive group and individual physical activity that promote a positive attitude towards physical well being.
6.1.1. Hockey Program
6.1.2. Afterschool sports
6.1.3. Cooking Club
6.1.4. Swimming programs
6.1.5. Community Gardens
7. How to get invloved?
7.1. Become a member: It's FREE!
7.1.1. http://www.bgcottawa.org/get-involved/become-a-member
7.2. Volunteer
7.3. Donate