SMJK Ave Maria Convent
by Yi Qing Chong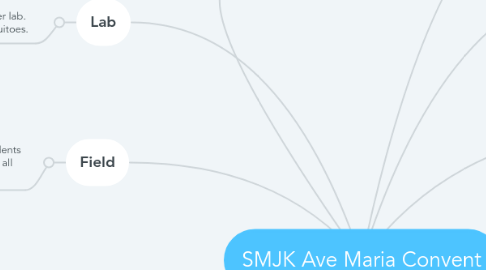 1. Hall
1.1. 2hall consists of Dato' Chin Pek Soo hall and Mother Pauline Hall. Students have examinations, concerts, school celebrations, and some "coco" events there. Both are equipped with air con.
2. Canteen
2.1. We got Mcd's style tables and chairs as they all came from the first mcd in kinta. We also have long tables and benches which are painted by ourselves in year 2013 or 2014 (i don't remember the particular year). Our canteen sells various mouth-watering food. 3 different races' food are served. The canteen uncle and aunty are responsible and friendly. They wipe the tables and clean the floor too.
3. Lab
3.1. we got 7 science lab and 2 computer lab. Labs are always the home for mosquitoes.
4. Field
4.1. yea, our school got three fields. Students have their PJ lessons there. They are all flooded during heavy rain.
5. Swimming Pool
5.1. something special in our school. it's considered small. we can see there dry leaves, branches and sometimes moss when it's not clean for a certain period. students don't like that chlorine smell of water.
6. Music room, Band room, Chinese orchestra room
6.1. Our students are active in their "coco" activities. Those music rooms are all CRAM with musical instruments. Students practice there for their competition and concerts.
7. Gym room
7.1. this actually exist and of course there are fitness equipments inside.
8. Court
8.1. We have a court named Caritas Court. It includes the basketball court and vollleyball court and is located beside our CPS hall. The shed above the court doesn't actually keep us away from the hot sun and rain.
9. Classroom
9.1. fully equipped with advanced technology LCD projector and internet access that have set PASSWORD. Due to our government's order we have to sit in groups and this makes us hard to face the whiteboard.
10. Toilet
10.1. always smelly and stingy.
11. People
11.1. headmistress, teachers, students, staffs
12. Library
12.1. Many types of books, novels and stories are found. It is neat, silent and systematic. A good environment to sleep too. We have helpful librarians to clean up the library too.