Aurelio Galvez Operating Systems
by
Aurelio Galvez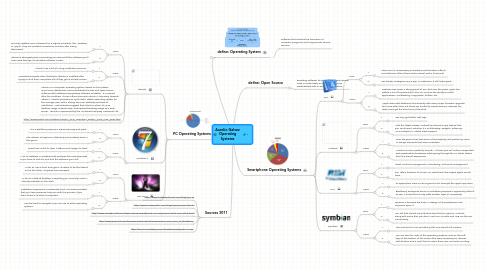 0.0
stars -
0
reviews range from
0
to
5
Sources 2011
http://www.stobbstechnical.com/blog/?p=35
http://www.techrepublic.com/blog/opensource/Ubuntu
http://www.rimweb.in/forums/topic/29285-smartphone-os-comparison-which-one-is-the-best/
http://www.pcworld.com/businesscenter/article/225222/pros_and_cons_of_blackberry
http://forums.crackberry.com/showthread.php?t=611650
Smartphone Operating Systems
iOS
Pros:, 1, There are no unnecessary animations and transition effects and whatever little is there looks natural and is functional., 2, Has barely undergone any major UI makeover, it still looks great.
Cons:, 1, Features was never a strong point of iOS, but over the years Apple has added a lot of functionality to the OS, such as the ability to install applications, multitasking, copy-paste, folders, etc, 2, Apple does add additional functionality with every major firmware upgrade but more often than not these are limited to newer devices, whereas the older ones get the short end of the stick.
Android
Pros:, 1, Has only got better with age, 2, With the latest release Android has almost every feature that you could want, whether it is multitasking, widgets, tethering, Wi-Fi hotspot or Adobe Flash support.
Cons:, 1, Over the years it has lost some of its simplicity and picked up some UI design elements that seem overdone, 2, Android is never perfectly smooth. At times you will notice unexpected and inexplicable slowdowns while going through the UI, which deters from the overall experience.
RIM
Pros:, 1, Great contract management, calendaring, and email management., 2, RIM offers freedom of choice, no restrictions like maybe apple would have.
Cons:, 1, Its application store is not as good as for example the apple app store., 2, Blackberry Enterprise Server or Blackberry Express is apparently difficult to use, it is said that it only adds another layer of complexity.
Symbian
Pros:, 1, Symbian 3 borrows the basic UI design of its predecessor and improves upon it., 2, You will find almost every feature here that you get on Android, along with some that you don't, such as FM radio and USB On-the-Go connectivity.
Cons:, 1, The end result is not something that one would call modern., 2, You can see the roots of the operating systems, such as the soft keys at the bottom of the screen that were necessary for devices with buttons and a scroll bar for when there was no kinetic scrolling.
define: Operating System
Software that controls the execution of computer programs and may provide various services
PC Operating Systems
Ubuntu
Pros:, 1, Security Updates aren't released on a regular schedule, like Windows or Apple. They are available sometimes minutes after being discovered, 2, Ubuntu's strongest point is providing you almost all the software you'll ever need through its included Software Center
Cons:, 1, Ubuntu has a bit of a long installation process., 2, Sometimes people claim that when ubuntu is installed after trying to shut their computers off all they get is a blank screen.
Ubuntu is a computer operating system based on the Debian GNU/Linux distribution and is distributed as free and open source software with additional proprietary software available. It is named after the Southern African ethical principle Ubuntu ("humanity towards others"). Ubuntu provides an up-to-date, stable operating system for the average user, with a strong focus on usability and ease of installation. Web statistics suggest that Ubuntu's share of Linux desktop usage is about 50%, and upward trending usage as a web server. Ubuntu is sponsored by the UK-based company Canonical Ltd.
http://gogeometry.com/software/ubuntu_linux_operating_system_mind_map_news.html
Windows 7
Pros:, 1, The installation precess is extremely easy and quick, 2, The release of explorer 9 definitely put windows back in the game.
Cons:, 1, Boot time is still to slow, it takes much longer to load., 2, A lot of software is available with windows the only downside is you have to look for and find the software your self.
Mac OS X
Pros:, 1, As far as Mac's boot time goes, its rated to be the fastest out of the three. Its speed has increased., 2, As far as a default desktop, everything you normally need is already available on the dock.
Cons:, 1, Installation experience is extremely hard, it is recommended that you have someone help you with this process if you don't know a lot about computers., 2, Can be hard to navigate if you are use to other operating systems.
define: Open Source
Denoting software for which the original source code is made freely available and may be redistributed with or without modification