Marquis James 2.4 Assignment (Audio Produciton)
by Marquis "MusicLandEnt" James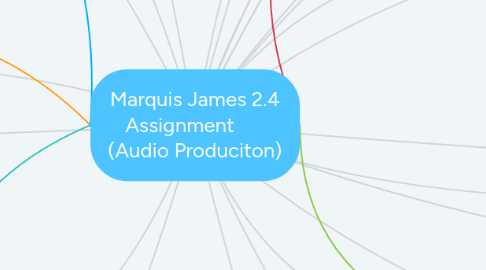 1. I will talk about my strong work ethic and the quality of work that I have created in songwriting, editing, mixing and mastering. I will talk about how I respect and admire their influence in the industry and the artists they have signed. I have education and experience and linking in partnership with Capitol Christian Music Group will help lead us both to new levels. I will stay knowledgeable as the industry continues to advance. I'll also talk about how I'm timely worker that goes above and beyond and meets deadlines.
2. I will discuss how I plan on using the skills I obtain at Full Sail to fulfill my dreams as a Music Producer in relation with Capitol Christian Music Group. While in school, I will gain knowledge in areas that I have not gained experience in such as marketing, music business (more in depth), audio consoles, and equipment troubleshooting to name a few areas. I have served many churches throughout the years in the music and media departments. I am currently an Audio Engineer at a large church in Tulsa, OK. Another asset is the opportunity I was given to work closely with a major gospel record label, Kingdom Records, and have written 6 songs for 3 major gospel artists. Two of my songs were the first singles released on those albums, and two of the albums I wrote for went gold. I'm hopeful that this experience will stand out to Capitol Christian Music Group. I will continue to build my portfolio and experience by writing music and eventually producing not only gospel artists, but other genres as well.
3. MY FUTURE SELF
4. S.T.A.R MOMENT
5. Most producers, such as myself, have a background in music, songwriting, and audio engineering. My S.T.A.R moment will be a professional recording studio with a great creative environment that artists can feel comfortable working in. It will be a fully equipped and professional studio that has a large selection of studio microphones, studio software, preamps, and other professional recording equipment. I desire to build longterm relationships with the artists and record labels and I believe this will put me on the path to do so.
6. CALL TO ACTION
7. Live
8. I want to take this journey, because I believe that it will lead me to advance my experience by producing albums for major artists, being an world renown producer, and having my own studios based in LA and New York City.
9. This presentation is about Audio Production and how I can use my knowledge and skills as a Music Producer to assist music artists and Capitol Christian Music Group in multiple ways. As a Music Producer, I am able to guide the record making process to turning ideas into reality, help artists reach their maximum potential, and utilize my years of experience as an Audio Engineer, Music Producer, songwriter, and musician to help the project to completion.
10. Capitol Christian Music Group seems to have a professional and casual corporate culture. In certain settings, business attire can be worn, but mostly casual wear is accepted. It is a Christian record label so depending on the position that is held, employees may dress a variety of ways.
11. What is their corporate culture like and are you a good fit for that culture?
12. COMPANY I'M TARGETING
13. Artists need help with song selection, project ideas, studio coaching, song arrangements, controlling the recording session, overseeing the whole process through audio production.
14. Who is your Target Audience?
15. Musicians and Singers
16. Owners of Record labels
17. TRUE AUDIENCE
18. An artist that creates, writes, and performs music that they release through a record label or independently
19. A publishing company is a company that manages productions, brands and trademarks, coordinates production, manufacture, and promotion, etc.
20. What Do They Need/How Can I Provide?
21. TRUE MESSAGE
22. I will talk about of I have wanted to work in the music industry most of my life. Starting at 15 years old when a friend of mine told me about software that I could use to create beats from my computer. I'm a drummer and wanted to know more about the technology side of making beats. I started playing around with the software, let people hear my music, and found that I may possibly have been good at it. I mastered that program and began to learn about more advanced software, eventually receiving my first recording software. I began creating full songs for my friends that rapped and sang, then I would record them. I got an internship while in high school at a major studio in Chicago, and was trained to produce full songs there. I think this history will display my years of passion and growth in Music Production.
23. Capitol Christian Music Group
24. Record labels hire or contract Music Producers to oversee the complete production of songs and full albums for music artists that are signed with their label