PEDAGOJİK YENİLİK
by Sevinç Aytaş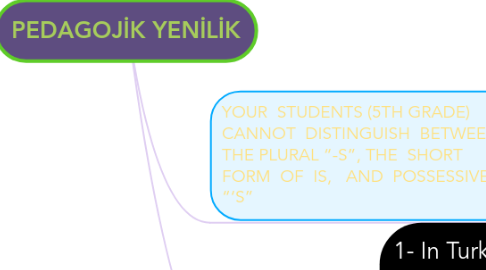 1. WHY
1.1. 1- In Turkish, as students don't pay attention to the usage of punctuation; they confuse the usage of different forms of "s".
1.2. 2- "s" has more than one function.
1.3. 3- In Turkish language, noun pluralization process works differently. If the number of items is mentioned, there is no need to use the suffix for the plurals.
2. YOUR STUDENTS (5TH GRADE) CANNOT DISTINGUISH BETWEEN THE PLURAL "-S", THE SHORT FORM OF IS, AND POSSESSIVE "'S"