Multicultural Council of Windsor and Essex County
by Karen Schiller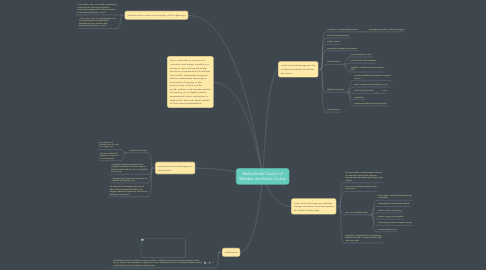 1. What are the visions and goals of the agency?
1.1. "Our Mission: The MCC creates a welcoming community for all through education, community engagement and the promotion of diversity and equality." (MCC)
1.2. " Our Vision: The MCC is recognized as an innovative leader in facilitating the development of an inclusive and welcoming community". (MCC)
2. How does the agency address equity, inclusion and awareness of cultural diversity?
2.1. The MCC offers a variety support services to individuals, schools and agencies working with and supporting refugees new settlers.
2.2. The MCC is actively engaged in the community
2.3. The MCC is partners with:
2.3.1. The Ontario Ministry of Citizenship and Immigration
2.3.2. Citizenship and Immigration Canada
2.3.3. Ontario Trillium Foundation
2.3.4. Ontario Women's Directorate
2.3.5. United Way Windsor and Essex County
2.3.6. Windsor Culture Map
2.4. Supporter of largest cultural and diversity festival: Carousel of Nations as well as the Herb Gray Gala
3. What services/programs for Ontario students and their families?
3.1. Translation & interpretation services
3.1.1. Language Interpreter Certificate Program
3.2. Cultural diversity training
3.3. English classes
3.4. Services for refugees and sponsers
3.5. Health Services
3.5.1. Nurse Practitioner Clinic
3.5.2. Multicultural Health Initiatives
3.5.3. Neighbor, Friends and Family program (NFF)
3.6. Settlement Services
3.6.1. Windsor Resettlement Assistance Program (WRAP)
3.6.2. Client Support Services Program (CSS)
3.6.3. Orientation to Ontario
3.6.3.1. O2O
3.6.4. Orientation
3.6.5. Newcomer Settlement Program (NSP)
3.7. Youth Services
4. How are services/programs accessed?
4.1. Contact local offices
4.1.1. 245 Janette Ave Windsor, ON N9A 4Z2 P: 519-255-1127
4.1.2. 7651 Tecumseh Rd E Windsor, ON N8T 3H1 P: 519-948-3443
4.2. Immigration Services as well as other refugee and settlement offices may also initiate contact with the MCC on behalf of their clients.
4.3. Volunteer and employment positions are available through the MCC
4.4. Schools and school boards may contact either office to request translation and refugee settlement support for new comers settling in their schools.
5. The Multicultural Council of Windsor and Essex County is a leader in promoting diversity and the co-existence of cultures. Our Public Education Program offers customized diversity & anti-racism training in the community, to the not-for profit, public, and private sector. Following an in-depth needs assessment, each workshop is tailored to the individual needs of the client organization.
6. Reference
6.1. Multicultural Council of Windsor & Essex County | Multicultural Council of Windsor & Essex County. (2017). Themcc.com. Retrieved 4 August 2017, from Multicultural Council of Windsor & Essex County | Multicultural Council of Windsor & Essex County